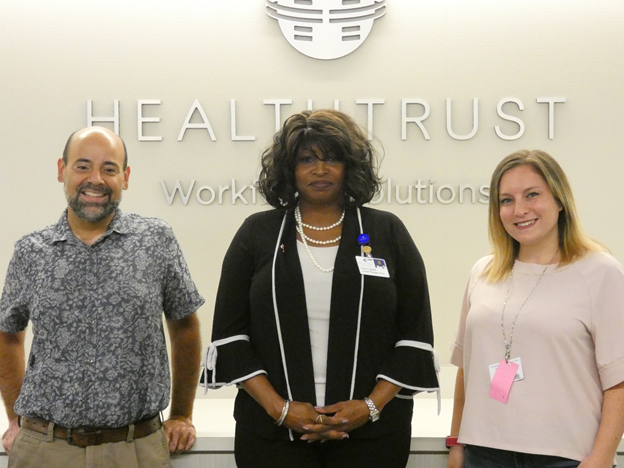 Each month, the HealthTrust Workforce Solutions Recruitment Team recognizes an Employee of the Month for exceeding their goals and exemplifying Operational Excellence. Congratulations to Employees of the Month Nelson Parets, Laura Campbell and Chelsey Markowitz!
Pictured above left to right, Nelson Parets, Laura Campbell, Chelsey Markowitz
July Employee of the Month: Nelson Parets, Associate Recruiter
Nelson has been with HealthTrust for three years where he works to recruit travel nurses and help get them to work at their most desired healthcare facility. His role enables him to foster relationships with dedicated healthcare professionals who ultimately deliver excellent healthcare to our patients.
"I love the amazing and supportive individuals that I have the privilege to interact with," says Nelson. "The remarkable feeling of making a difference in the lives of others every day is my favorite part of my job."
In his spare time, Nelson enjoys working on his vlog channel where he focuses on his travels and experiences in hopes of inspiring others to travel and do what they love. He also is working developing his photography skills.
August Employee of the Month: Laura Campbell, Account Manager
Laura began her HealthTrust Workforce Solutions journey seven years ago. In her role as an Account Manager, she is responsible for developing and maintaining relationships with her healthcare facility clients. She also collaborates with strategic staffing partners to form meaningful partnerships. It is her responsibility to ensure client satisfaction, develop new business opportunities within her divisions and act as a liaison for effective communication and coordination between her clients, operations and clinicians.
"The team that I work with is cohesive and supportive of one another," says Laura. "Being a part of this team and knowing that what we do makes a difference is what makes me happy."
When she isn't working, Laura enjoys spending her time reading, watching nature shows and geocaching with her son!
September Employee of the Month: Chelsey Markowitz, Career Coordinator
Chelsey has been with HealthTrust Workforce Solutions for two and half years. In her role, she is responsible for all logistical reporting in the Recruitment Department. She also handles the Refer-a-Friend program in which people can refer a nurse to HWS and potentially be paid $500 or $750. In addition to those tasks, Chelsey is the go-to person for posting jobs on our website, healthtrustjobs.com.
"It feels amazing to be recognized," says Chelsey. "We all work hard each day and this award shows that working hard does not go unnoticed."
Some of Chelsey's hobbies include spending time with her boyfriend and family, and she also enjoys working out.
Congratulations to our Employees of the Month! If you would like to become a part of our HealthTrust family, click here.