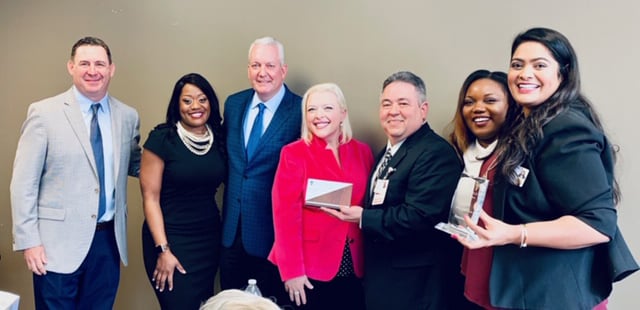 Throughout 2018, each of our local offices helped more healthcare professionals find jobs than ever before. Let's take a look back at how our nurses across the country helped make 2018 a year to remember.
For the first quarter of the year, nurses in West Florida were eager to get to work, showing the largest jump in shifts completed compared to the previous year. Not to be outdone, our Dallas nurses dominated the second quarter of 2018 in terms of overall shift growth.
The third and fourth quarters brought our Houston nurses into the spotlight, not only for showing the most growth in shifts, but also for a record number of nurses becoming part of the local Resource Pool. The Resource Pool is comprised of registered nurses who float to all of the facilities within the HCA Houston Healthcare market.
Pictured above are team members from our Houston office accepting the Office of the Year Award on behalf of our local nurses: Senior Vice President Steve Wright, Area Vice President Raven Watson, President & CEO Brendan Courtney, Regional Vice President Kristi Stark, Area Vice President Randy Garcia, Director of Clinical Operations Carmelita Riley, and Director of Staffing Silkie Vasa.
We would like to thank all of our nurses and local offices for helping to care for patients at healthcare facilities nationwide! If you're interested in joining our team, click here to browse our clinical and corporate career opportunities.