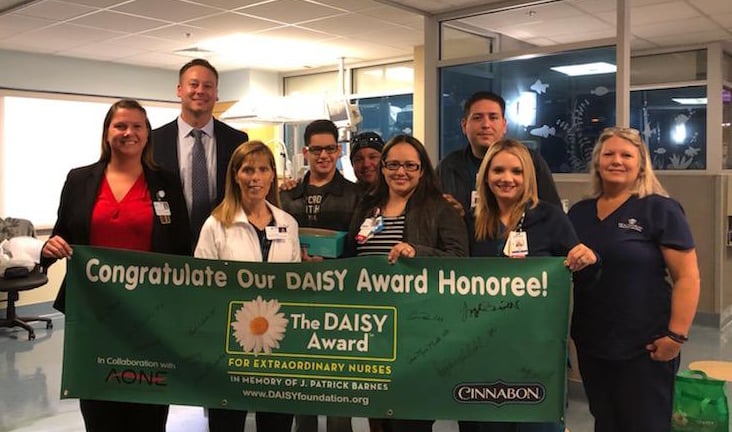 Congratulations to Luz Silva, RN, on earning a DAISY Award! Luz is a HealthTrust nurse who works in the NICU at Del Sol Medical Center in El Paso, Texas.
Luz was recognized for the compassion she showed to a family whose joy at welcoming their newborn son would soon turn to sorrow. Her nomination can be read below:
"This year, a baby was born to a family that was awaiting the birth of their firstborn son with great anticipation. Their joy turned to sorrow when they learned that their baby had a cardiac condition that was not compatible with life. We can only imagine how those parents and the family felt to receive this news. The physicians and medical specialists on the case spoke to the parents prior to delivery and confirmed the expected outcome. None of them expected the baby to survive more than a couple of hours at best beyond delivery.
A beautiful baby boy was delivered and he seemed vigorous and full of life so the neonatal team initiated resuscitation. Subsequent diagnostic studies re-confirmed the fact that the baby had little chance of survival. What made the situation even more challenging was the fact that, to all outward appearances, the baby looked perfect in everyone's eyes, especially in the hopeful hearts of his parents. This made palliative care difficult to manage as well. Palliative care was initiated as ordered; to everyone's surprise, the baby hung in there and survived past 24 hours.
As exhausted as they were, our extraordinary team of professionals came together to help this very special baby and the family. They took turns round the clock to work with the parents, patiently explaining repeatedly why this seemingly perfect baby, even though he was responding favorably, would eventually not survive. Rebecca Lopez and Luz Silva became his primary nurses, taking turns and shifts caring for this tiny patient and his emotionally and physically exhausted parents. Both Rebecca and Luz sat with them, holding their hands, offering a shoulder to cry on whenever they needed it.
The baby passed away peacefully at home the next day surrounded by his loving parents and family. They were able to successfully transfer the baby's body to their hometown in Mexico to be with the rest of their family."
In addition to earning a DAISY Award, Luz also earned Del Sol Medical Center's ICARE Award for her service. This award is presented to team members who demonstrate the ICARE values of Integrity, Compassion, Accountability, Respect and Excellence.
Please join us in congratulating Luz Silva on earning a DAISY Award!
If you're interested in joining the HealthTrust team, click here to browse our available job opportunities.