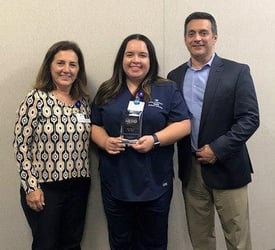 StaRN Clinical Instructor Kim Parreno, RN is our next corporate HealthTrust Hero! A registered nurse for seven years, Kim joined the StaRN program three years ago to inspire and educate new nurses in South Florida.
StaRN, short for Specialty Training Apprenticeship for Registered Nurses, is a program designed to bridge the skills gap between new graduates and experienced nurses to increase the pool of qualified registered nurses. StaRN Clinical Instructors are experienced registered nurses who act as mentors, educators, and preceptors to the newly-licensed nurses who join the program as Cohorts.
"It is one of the most rewarding experiences for an experienced nurse," Kim says. "The best part of my job is providing the new generation of nurses with the resources and education they need to help them succeed in the hospital."
In addition to teaching Cohorts, Kim is also responsible for onboarding the new Clinical Instructors, who provide skills training, simulation instructing, and feedback to the Cohorts, among other tasks.
We congratulate Kim Parreno, RN for becoming a HealthTrust Hero! Kim is pictured above (center) with Director of Education Services Gina Barry and VP of Education Tony Mangola.
You can read Kim's nomination in full below:
"Kim has a very positive and professional demeanor working with new instructors, learners, and co-workers. She is responsible for onboarding the new instructors and also teaches in the classroom. She is always very welcoming, providing a safe environment for them to learn and grow.
She is very organized and always willing to help coworkers and new instructors with any issues, often on her own time in the evenings or weekends. She provides constructive criticism in a non-threatening environment.
Kim is wonderful in the classroom as well. She is organized and commands respect from coworkers and learners. She considers the quality of work to be important and goes above and beyond to make sure it is. She is an instructor everyone loves to work with because she has great sense of humor, is intelligent and is highly skilled in her profession. She is compassionate, caring, and kind. This recognition would be very well-deserved."