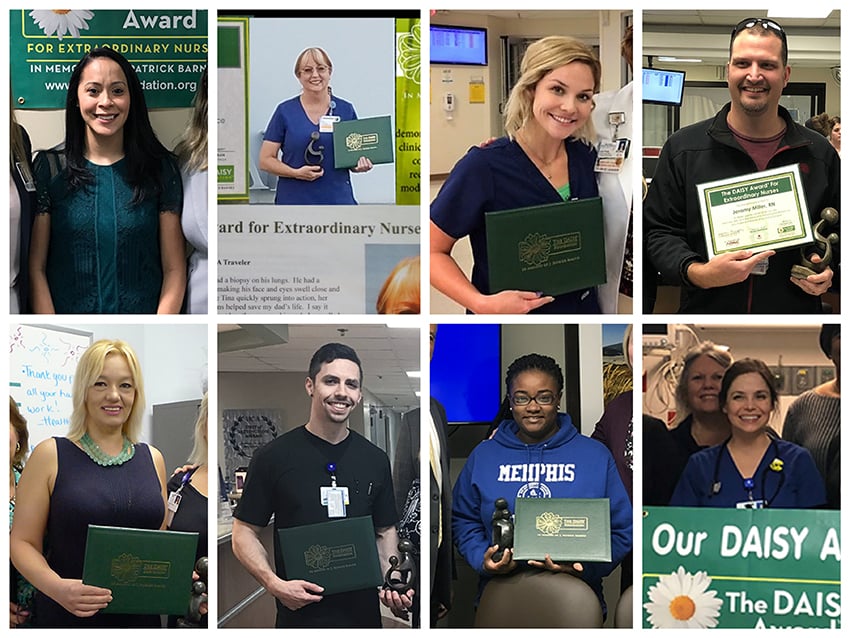 One of the most prominent ways that HealthTrust Workforce Solutions recognizes nurses who exhibit the utmost skill and compassion to their patients is through the presentation of DAISY Awards. The DAISY Award for Extraordinary Nurses is recognized as a symbol of nursing excellence in 22 countries and in all 50 states.
The DAISY Foundation was established in 1999 in memory of J. Patrick Barnes after he passed away from complications of an auto-immune disease. His family sought to publicly recognize the nurses who provided Patrick with the highest quality of care during his eight weeks of hospitalization. Thus, the DAISY Award was born.
HealthTrust Workforce Solutions is a proud supporter of the DAISY Foundation and will be making a donation to the DAISY Foundation on behalf of our nurses for National Nurses Week. Additionally, HealthTrust would like to recognize the eight nurses who have earned the DAISY Award during their time with HealthTrust:
Please join us in celebrating these DAISY Award winners, as well as celebrating all nurses who have dedicated their lives to providing compassionate care to those in need! If you would like to nominate a nurse for the DAISY Award, click here.