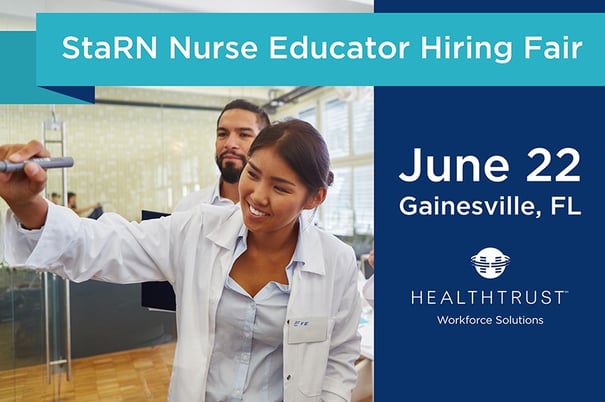 Our StaRN program is looking for Nurse Educators in Gainesville, Florida!
StaRN, short for Specialty Training Apprenticeship for Registered Nurses, is a training program designed to increase the pool of qualified registered nurses through bridging the skills gap between new graduates and experienced nurses.
Nurse Educators are experienced registered nurses who act as mentors, educators, and preceptors to the newly-licensed nurses, helping to ensure success on the units in several participating HCA facilities. They are responsible for assisting our staff with content delivery, skills training, simulation instructing, debriefing, and providing feedback to participants in a constructive and professional manner.
All StaRN Nurse Educators must be registered nurses (RNs) and have a minimum of 3 to 5 years recent hospital experience.
The specialty tracks offered by StaRN include:
Medical/surgical
Telemetry
Critical care
Behavioral health

Emergency department.
In addition, the program provides advanced training on the AACN standard and nationally recognized curriculum in conjunction with high fidelity simulation and clinical preceptorship at the hiring facility.
If you'd like to learn more about this opportunity, we are hosting a StaRN Hiring Fair on Thursday, June 22. Click here for more details.