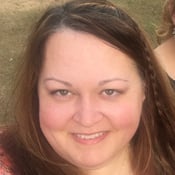 Trust and mutual respect are key for any working relationship, especially the relationship between a job seeker and a recruiter. For registered nurse Hillary Perez, these qualities were paramount in her search for a new traveler agency.
Hillary's relationship with HealthTrust began earlier this year, and she has already chosen to extend her current travel contract. Her decision to remain with HealthTrust was due to one very particular reason: the bond she built with her recruiter, Philip Long.
"He's very personable and everything that he says will happen, happens," she says. "I trust him."
Although he may be thousands of miles away from his nurses, Philip makes a huge positive impact on his clinicians — especially Hillary — by understanding how important finding the right job is for them.
"She works hard for her kids and parents," Philip says about Hillary. He notes that she is paying for her older daughter's education and study abroad, as well as saving up money to do the same for her younger daughter. Plus, "she is a magnet for other excellent nurses."
With qualifications to work in the ER, PICU, ICU, Telemetry, and Pediatrics, Hillary's employment opportunities are nearly unlimited. She currently works in Pediatrics at Women's and Children's Hospital in Lafayette, Louisiana.
Before becoming an RN, Hillary worked as an LPN for 16 years while also balancing being a single mother. However, she knew she wanted to do more to advance her education and provide for her daughters, so she went back to school while also working fulltime.
"You can put yourself through school no matter what," Hillary says about her experience. "Anything is possible."
Although her early aspirations were to become a veterinarian, her life continued to guide her back to caring for children. Her inherent thirst for knowledge and knack for problem solving have served her well in her nursing career.
"With nursing, you're forever learning. No nurse knows everything," Hillary says. "[And] with kids, you can't always tell if they're hurting, so you have to think outside the box."
If you're interested in becoming a travel nurse with HealthTrust Workforce Solutions, click here to browse our available opportunities.