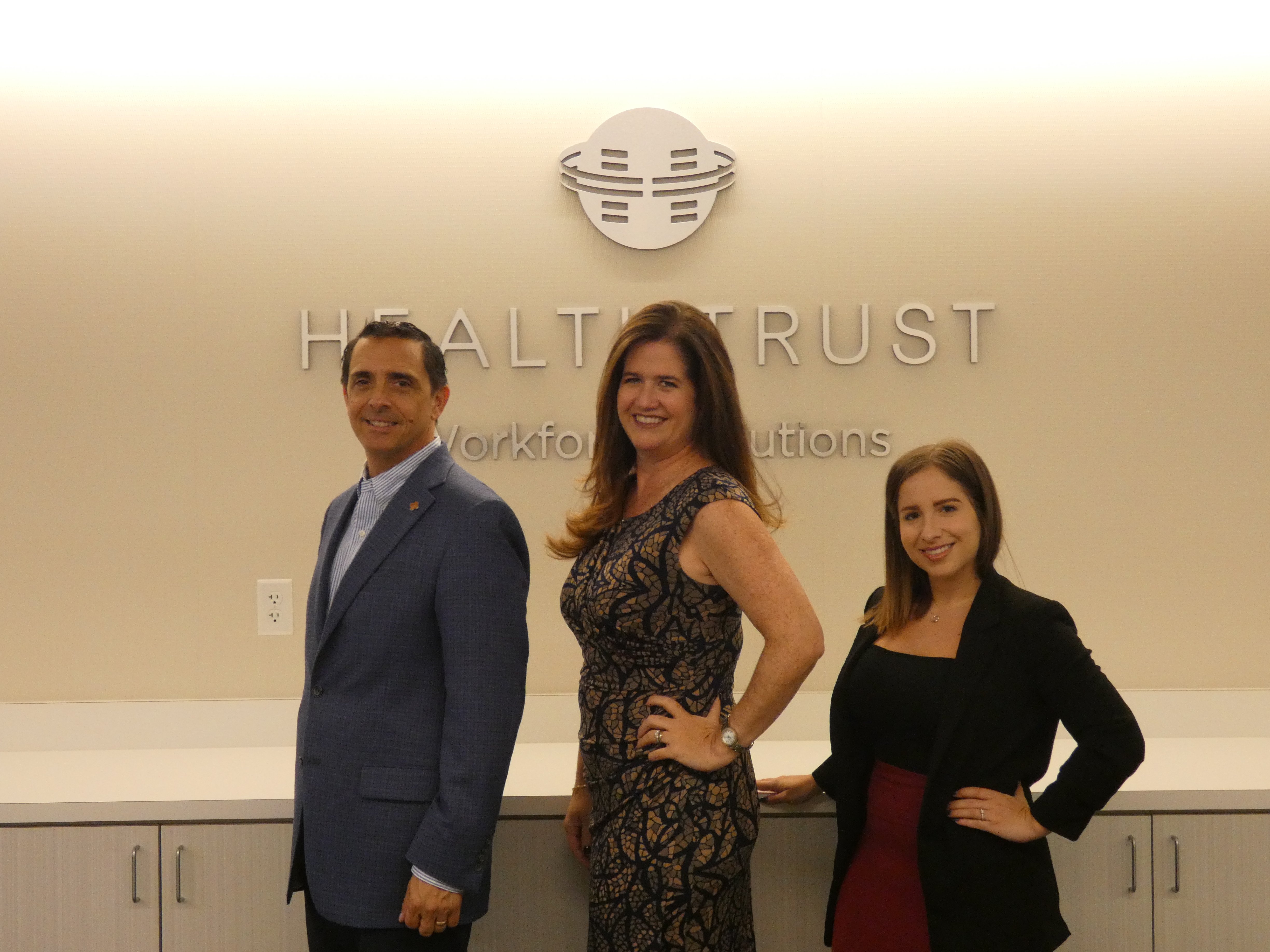 HealthTrust Workforce Solutions is proud to recognize the Professional Development Group. This team is made up of three seasoned professionals who work strategically to ensure every department within the company is trained in areas such as customer service excellence and recruitment best practices.
First, we'd like to introduce John Ruffini. John is the Vice President of the Professional Development Group. He recently joined HWS last year to spearhead the development of this team, bringing along his more than 25 years of recruiting and staffing experience to the organization. While he is the leader of the group, he and his team work together and collaborate 100% of the time. In his role, he has the opportunity to touch and impact every aspect of the organization. He works on multiple training and development initiatives and it is his duty to ensure that he and his team are focused on the organization's goals and vision.
"I enjoy every aspect of my job – really!" says John Ruffini. "However, there is something special about seeing that light bulb go off in someone's brain, providing them with knowledge and inspiration that takes their game to a higher level that gives me the most gratification and satisfaction. When I am in front of a classroom as an educator, I am right at home."
Next, we meet Joy Medrano. Joy has been with HWS for 5 years and is the Sr. Training & Development Specialist of the Professional Development Group. In her role, she has the privilege to interact with every department in the office and field. As part of the Professional Development Group, she and the team work cohesively to determine what the organization and department-specific needs are and put plans in place to address those opportunities. This includes not only initial development, but also ongoing development to promote an environment of continual learning and growth. This way, the needs of the organization are achieved, and departments have the opportunity to help develop those who need development as well as those who want to develop continuously. Joy has worked in the staffing industry in numerous training, development and HR capacities for the past 23 years.
"Nothing is more satisfying than seeing a participant/student understand what you are teaching," says Joy Medrano. "This, along with feeling the energy in class from the participants, is infectious and makes me want to help them learn more."
Last but not least, meet Jennifer Mailly. Jennifer has been with HWS for about 4 years and is the Group's Training & Development Specialist. In her role, she partners with the Marketing Department to promote effective recruitment resource utilization quite often with the efforts to boost Job Board Utilization. She meets with team members in need of guidance in an effort to help them become super-users with the tools they are provided. Prior to Professional Development, Jennifer was an Associate Recruiter here at HWS where she recruited Per Diem Nurses, and was also a Hiring Manager for Remote Recruiters to staff for HCA Healthcare facilities.
"My favorite part of my role is being able to meet new people," says Jennifer Mailly. "Being able to interact and assist with all kinds of personalities is intriguing to me."
Here at HWS we have 5 core values that we live by: Courage, Innovation, Adaptability, Accountability, and Trust. When asked which core value is their favorite, each member of the Professional Development Group gave a different response: John Ruffini most values Accountability and Trust. Joy Medrano's favorite core value is Adaptability, while Jennifer Mailly values Trust.
Every day, this team works hand in hand to ensure that each of our team members is equipped and empowered to deliver the highest level of operational and service excellence, no matter what their role is within the organization. We are thankful for all of the hard work and dedication that the Professional Development Group does to help our organization grow.
Pictured above from left to right: John Ruffini, Joy Medrano, Jennifer Mailly
If you would like to join the HealthTrust team, click here to browse available job opportunities.