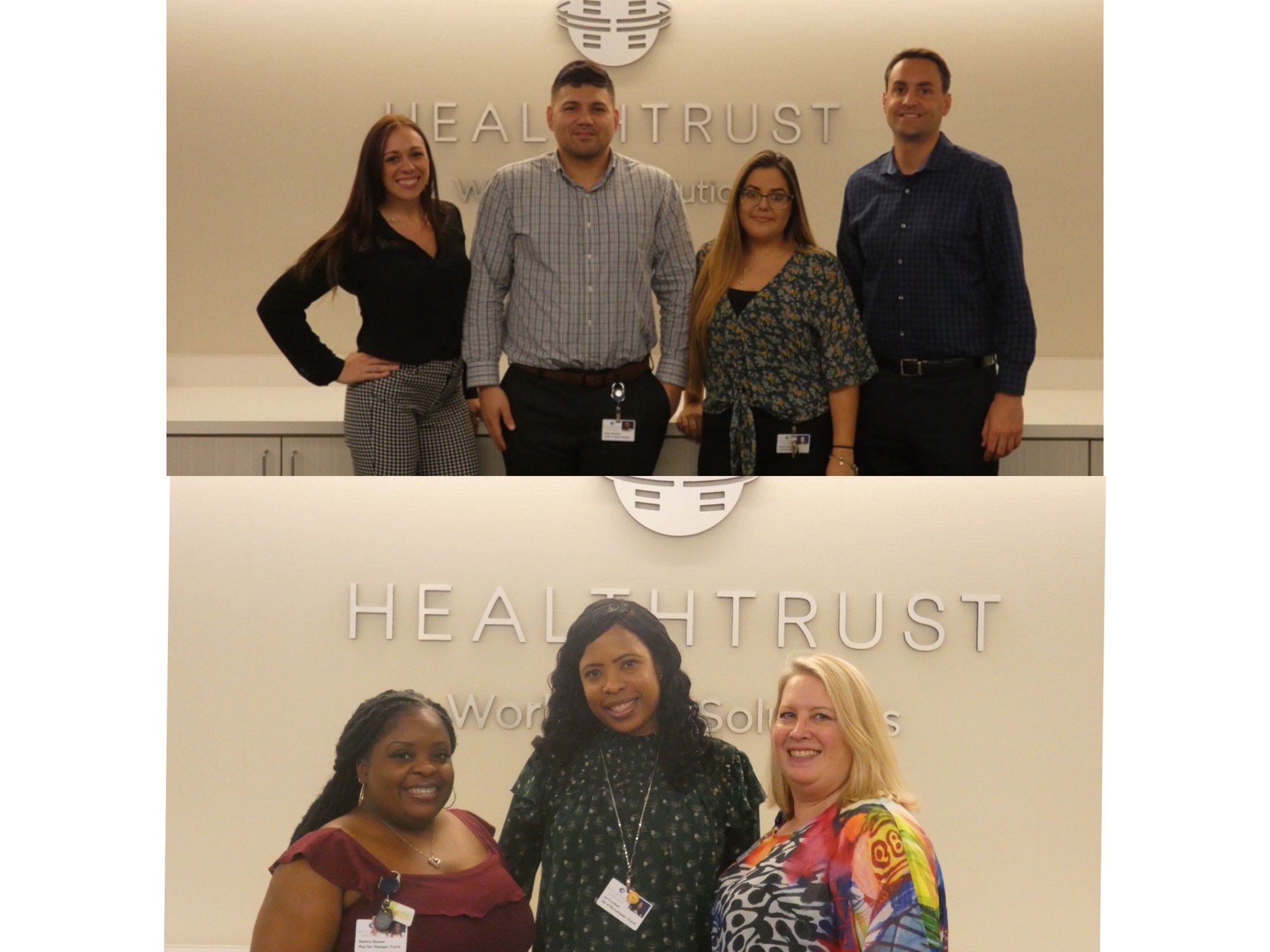 HealthTrust Workforce Solutions is proud to recognize the Travel Recruitment Department. This department is broken up into four teams: Travel Recruitment, Associate Recruitment, Onboarding and the Program Management Team. These teams are responsible for recruiting and hiring healthcare professionals to work at our HCA Healthcare facilities.
The Travel Recruitment Team is dedicated to recruiting Travel Nurses. It is their role to build and maintain relationships with their travel nurses in order to successfully book personalized travel nursing contracts that suit each nurse's unique interests and needs.
"Engaging with nurses and hearing about what they do on a day-to-day basis is what inspires me," says Travel Recruiter Danielle Zeth. "Finding quality nurses and knowing that they are delivering the best healthcare possible keeps me going."
The Associate Recruitment Team is responsible for assisting the Travel Recruiters. In their role, they ensure that all required documents from the nurse are being uploaded and perform reference check calls. They also are responsible for preparing files for submissions. The support that the Associate Recruitment Teams provides is crucial to the Travel Department, providing assurance that all documentation is ready to go in each nurse's file. This team helps put more nurses to work on travel assignments from the initial screening through the onboarding process.
"Knowing that by me helping place a nurse in one of our facilities is making a difference in a patient's or family member's life has to be my favorite part of my job," says Associate Recruiter Isabeau Bekich.
The Onboarding Team makes contact with the traveler via phone, email, and text within 24 hours of receiving their file. Once an onboarding specialist reaches out to the traveler they let them know what requirements are pending in order for them to be compliant for their upcoming assignment. The Onboarding process is to guarantee that all of the health documents, and credentials are update to date, and that travelers have a smooth and easy transition to starting their new position.
"My favorite part of my role is interacting with my team, working together and being able to work with other leaders on teams such as the Enterprise Operations Team," says Regional Operations Manager, Shakira Skinner.
The Program Management Team provides quality customer service to the Travel Recruitment Team and the travel nurses. They also work to strengthen partnerships throughout all of the HCA Healthcare facilities and all departments within Travel to ensure success. This team works to provide HWS travel nurses with exposure to the most desirable travel contracts across the enterprise.
"I have been with HWS for four years and I love the extreme ownership that my team and I take from a requisition-to-check basis to ensure delivery from our team," says Senior Program Manager Diego Monsalve.
The Travel department works hard together every day to work meet the needs of our hospital systems, clinicians and the patients in their care.
"Knowing the candidates we recruit and staff are providing direct patient care is so important to me," says Vice President of Travel Tim Bollinger. "I know that if someone I care about is a patient at one of our hospitals, there is a good chance they will be cared for by someone our team placed."
Pictured above:
Front Row – Travel Recruiter Danielle Zeth, Senior Program Manager Diego Monsalve, Associate Recruiter Isabeau Bekich, Vice President Tim Bollinger
Bottom Row – Regional Operations Manager Shakira Skinner, Director of Travel Joi Crockett, Director of Travel Sylvia Weg-Swezy
If you're interested in joining our corporate or clinical team, click here to browse our available job opportunities.