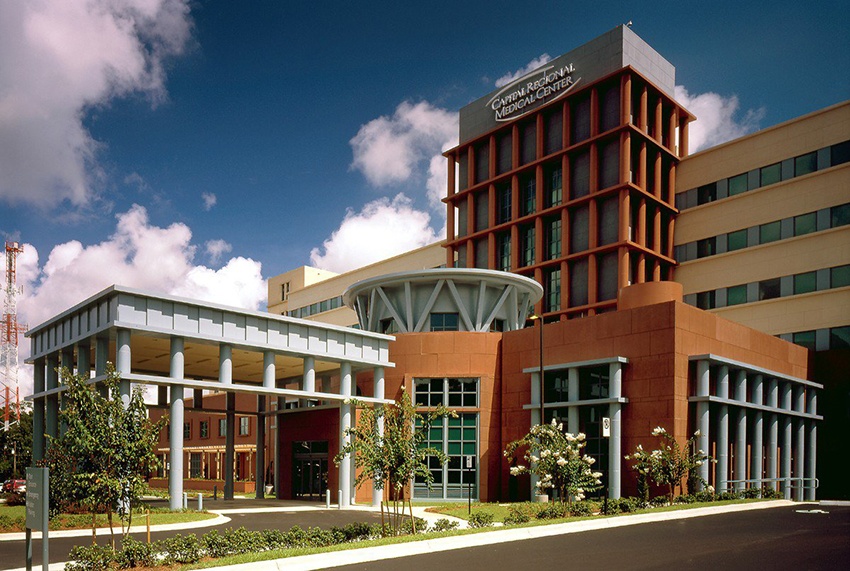 Capital Regional Medical Center is a 266-bed acute care HCA hospital located in Tallahassee, Florida. The facility is known for its extensive emergency care offerings, which feature a Pediatric Emergency Room, a Senior Care Emergency Room, and an Express Emergency Room, in addition to typical emergency services.
Capital Regional Medical Center offers several other specialized services outside of emergency care through its Bariatric Center, Behavioral Health Center, Family Center, and more. The Center has earned numerous awards and accreditations, including Disease-Specific Certifications for Joint Replacement Knee, Joint Replacement Hip, and as a Primary Stroke Center. The facility is also a Fully-Accredited Chest Paint Center with PCI and is Accredited by the American College of Surgeons.
The facility's staff of more than 1,100 healthcare professionals cite the emphasis on teamwork and the positive atmosphere as some of the best reasons to work at the Center. The Center helps to foster this teamwork through initiatives like the iMobile Feature, which is a smartphone platform that allows nurses, doctors, and other clinicians to connect and share patient information securely, efficiently, and immediately with the appropriate healthcare professionals. The facility has also engaged a high-tech, real-tome locating system to help staff to locate highly-used mobile equipment anywhere in the hospital.
The Center's Employee Wellbeing Program focuses on community, career, social, financial, and physical health, which are the five essential elements of wellbeing. Through its partnership with iGrow South City Community Garden, the facility's staff collected donated garden tools, plants, seeds, and more to foster the sense of community in local area. In addition, the Center hosted an annual back-to-school drive that donated more than $3,000 in school supplies to the Children's Home Society and the Covenant Hospice's Partners in Care-Together for Kids program. As part of this initiative, the staff stuffed more than 125 backpacks that were delivered to children in need at these charities.
The area surrounding the facility is rich in Florida history. This state capital features the St. Mark's National Wildlife Refuge, the Museum of Florida History, and the Mission San Luis, among other activities. With warm summers and mild winters, Tallahassee offers plenty of opportunity for outdoor activities.