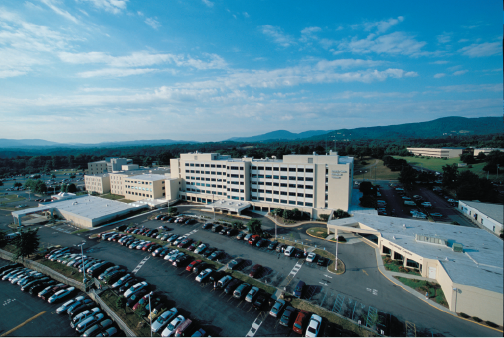 LewisGale Medical Center is a 521-bed acute-care HCA facility in the mountainous region of southwest Virginia. The Center is part of LewisGale Regional Health System, which serves more than 250,000 patients per year through its four hospitals, two cancer centers, six outpatient centers, and 700 affiliated physicians.
LewisGale Medical Center ranks among the top hospitals in the nation for benchmarked quality cancer care, patient safety and satisfaction, and health outcomes. The Centers for Medicare and Medicaid Services have also ranked LewisGale Medical Center among the top hospitals in the nation on quality measures for services and treatments for heart attacks, heart failure, pneumonia, and surgical care.
The Center opened its freestanding emergency room in December 2017, which provides the same emergency services as LewisGale Medical Center's ER. The facility's 29-bed progressive care unit (PCU) is a stroke-designated unit where patient turnover ranges from five to twelve days and nurse-to-patient ratios are based on acuity. Leadership has a passion for supporting nurses in reaching their professional goals through fostering educational opportunities and specialty certifications. Staff members say the supportive environment and emphasis on teamwork are among the best reasons to work at LewisGale.
The Center is located in Salem, Virginia, which is just outside of Roanoke. The region is known for its natural beauty in the surrounding Blue Ridge Mountains and in areas like Carvins Cove Natural Reserve. Rich in history and close to a multitude of activities, Salem is an ideal location for individuals looking for peaceful getaway.