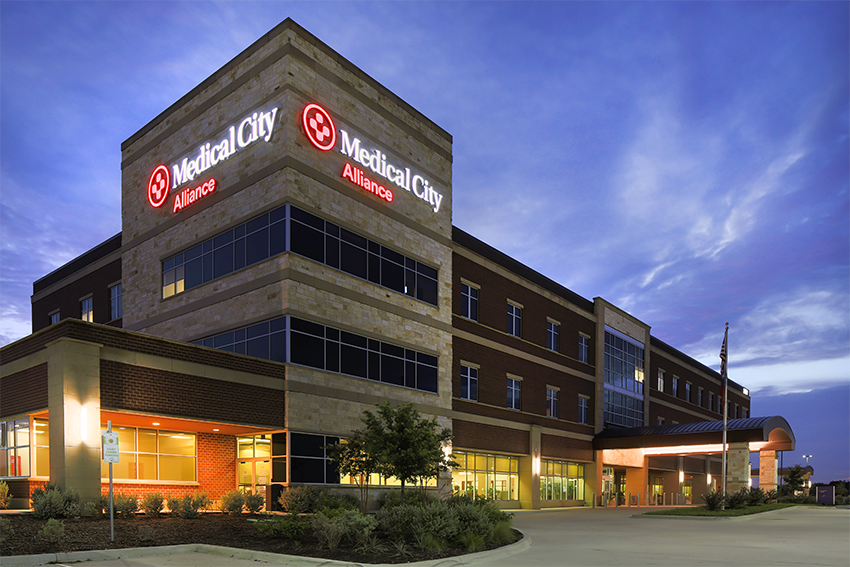 Medical City Alliance is a three-story full-service hospital that offers world class health care with a personalized approach in Fort Worth, Texas. Medical City Alliance is dedicated to high quality, compassionate care specializing in emergency services, maternity care, robotic surgery, cardiology, and family health.
Medical City Alliance is a 55-bed, 155,000 square foot facility that has the ability to expand up to six floors. The surgical unit located on the first floor, and the second floor is where to find maternity care, including an eight-bed Level III NICU with private rooms. The third floor includes a 12-bed medical surgical unit, an eight-bed ICU, and a 20-bed PCU unit.
Medical City Alliance is now an Accredited Chest Pain Center with Primary PCI. The American College of Cardiology has recognized Medical City Alliance for its commitment to treating patients with chest pain using well demonstrated expertise. CEO Glenn Wallace states, "This is another example of our commitment to our patients, our EMS partners and everyone dedicated to preventing heart attack deaths in the north Ft. Worth community." Staff members say Medical City Alliance is a fun place to work with a great culture and many opportunities for growth. In 2019, Medical City Healthcare was named as one of the 100 Best Companies to Work for in Texas.
Fort Worth is a modern city in North Central Texas that is home to the Kimbell Art Museum and the National Cowgirl Museum and Hall of Fame that honors pioneers. In the late 19th century, Fort Worth became an important trading post for cowboys at the end of the Chisholm Trail. With its rich history and numerous attractions, you'll never run out of things to do in Fort Worth.