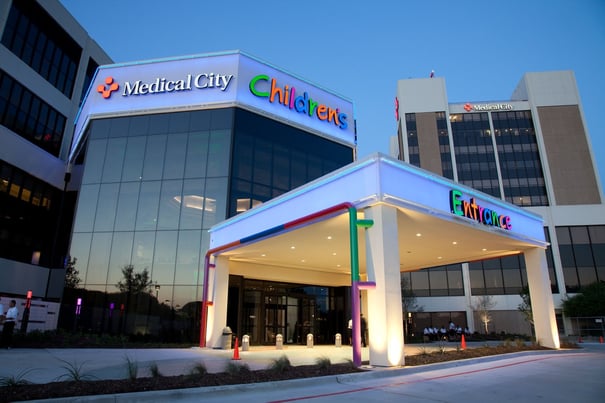 Medical City Children's Hospital is a 156-bed comprehensive and specialized hospital with an unwavering focus on patient care. This Dallas, Texas facility is part of HCA's Medical City Healthcare system, which includes 16 hospitals, 7 off-campus emergency rooms, 50+ ambulatory sites, 7,000+ active physicians, and 15,000 employees. Many of these positions and facilities are staffed by HealthTrust Workforce Solutions, an affiliate of HCA.
Conveniently located on Forrest Lane at Central Expressway, Medical City Children's Hospital offers world-renowned excellence in comprehensive pediatric services such as emergency services, care for congenital heart conditions, cancer, orthopedics, transplant and kidney care, and a Level IV NICU – the highest level of NICU care available in Dallas. As a result, Medical City Children's has been able to help thousands of children from birth to age 18.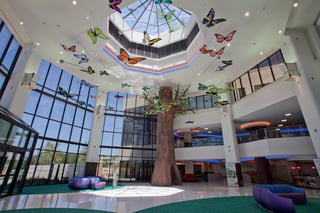 Medical City Children's Hospital is engaged in the community, both within the Dallas-Fort Worth metroplex and across Texas. Physicians, nurses, and other employees participate in educational programs at local schools and events. The Community Outreach Department works to provide the latest health information to the public through free seminars and screenings, physician visits to community groups, and news stories.
Because both parents and children experience the stress and anxiety associated with their condition, Medical City Children's strives to offer families all the support they need and the hope they deserve. The staff understands that caring for children is different from treating adults, which is why they provide families with Child Life and family therapists. In 2019, Medical City Healthcare was named as one of the 100 Best Companies to Work for in Texas.
In addition, every Medical City Children's Hospital hematology and oncology patient sees board-certified pediatric sub-specialties who strongly believe in open lines of communication with parents, children and the patients' pediatricians.