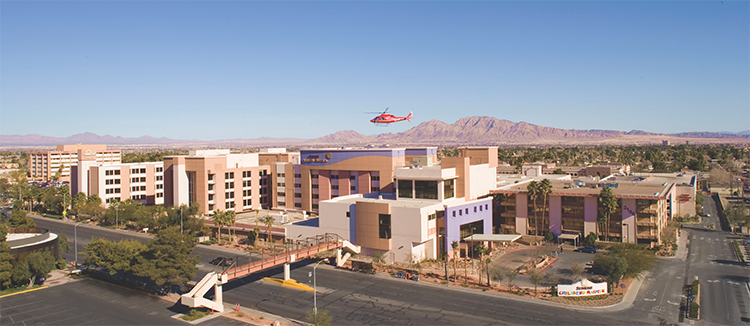 Sunrise Hospital & Medical Center is a 690-bed HCA Healthcare facility in Las Vegas, Nevada. This hospital shares a campus with Sunrise Children's Hospital, known for being the largest children's hospital in the state.
The Center offers a range of comprehensive services, including a Level II trauma center, emergency care, women's services, and robotic surgery. The quality of these services have earned the facility many awards and accreditations, such as being named an Advanced Comprehensive Stroke Center by The Joint Commission and being voted as the Best Hospital in Las Vegas twice. Staff members say the friendly atmosphere, fast-paced environment, and opportunities for growth make Sunrise Hospital & Medical Center a great place to work.
The Center is about 10 minutes east of the Las Vegas Strip and 10 minutes south of Downtown. Although the city is known for its casinos, nightlife, and world-famous shows, Las Vegas is also home to great schools and children's activities. No matter where you go, you'll never find another city like Las Vegas.