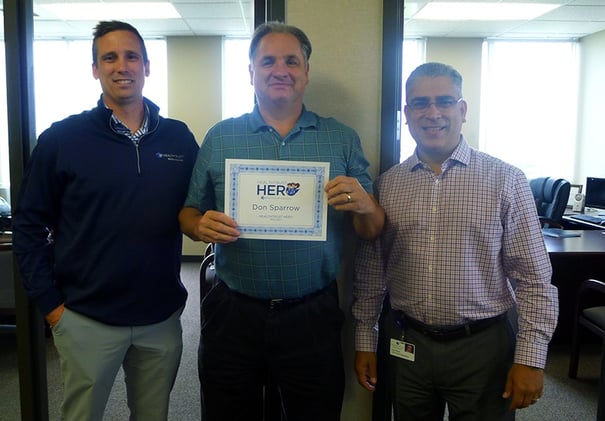 Don Sparrow is our next corporate HealthTrust Hero! Don started his career with our parent company, HCA, 30 years ago and takes great pride in improving patient care through his work in IT.
"It's all about building the foundation for medical professionals to work within," Don says. "I love my job."
While in college studying computer technology, Don picked up a job working in the file room at an eye care center. When the center's computer expert left the company, Don had the skills and the drive to take over this role, his first IT position within the HCA family.
Don made several more stops along the way – including working at JFK Medical Center, Plantation General Hospital, and Westside Regional Medical Center – before finding a position at a rapidly-growing healthcare staffing agency located near one of the hospitals. This company, then called All About Staffing, would ultimately become one of the industry leaders in matching medical professionals with healthcare facilities nationwide: HealthTrust Workforce Solutions.
Don earned his title of HealthTrust Hero through his creative approach to managing the company's use of cloud technology. Outside of work, Don channels this same creativity into performing and recording music in a variety of styles: blues, rock, classical, and more. An accomplished musician, Don performs under the name Desperado and plays all of the instruments on each of his songs.
Yes, you read that correctly: He plays every instrument on every song.
Don accomplishes this by prerecording many of the parts, such as the drums and keyboard, and playing back the recording while on stage, where he will play the guitar and sing live.
"I have a studio in my backyard," Don says about his recording space. "There are some songs I can get done quickly in about 15 to 20 hours." Others, he adds, can take up to 100 hours.
Talented in his approach to both technology and music, we are proud to have Don Sparrow as our next HealthTrust Hero!
Don is pictured above (center) with CIO Mike Seestedt (left) and AVP of IT Operations Luis Navas. You can read Don's HealthTrust Hero nomination in full below:
"Donald is a long standing member of the HCA family. On July 15th he will celebrate his 30 year anniversary at HCA! Donald spent the majority of his career supporting healthcare IT for different HCA East Florida hospitals, and is now a vital member of HealthTrust Workforce Solutions. Three years ago the IT&S team leveraged Donald's expertise and overcame many obstacles to implement the cloud infrastructure to host Workforce 2.0, a breakthrough technology that was not widely accepted within HCA at the time we started our implementation.
HealthTrust Workforce Solutions represents 83% of the total cloud spend at HCA, and all of our new initiatives are targeted to continue using cloud technologies. However, Donald was not satisfied knowing that we represented the largest spend in the cloud and started to research and work with HCA teams to implement a schedule to shut down non-production environments when not in use. The outcome of his initiative resulted in a $30,000 a month savings -that is more than $360K a year!
Anyone that has met Donald can testify that he has an extraordinary care for our business, his commitment and energy is contagious and that makes him a HealthTrust HERO."
If you would like to nominate a corporate team member or clinician for HealthTrust Hero, please click here.