Here is a personal story from one of our own HWS team members. Read as he shares his experience being the recipient of care at an HCA Healthcare facility where we truly care like family.
"I am writing this as a gesture of gratitude toward some truly exceptional people. I am 4 weeks past the most challenging, life-changing experience of my life.
In early August I had a CT scan due to some lingering abdominal pain, I feared it could be a hernia. On Monday, August 10th I got a call from my primary care physician's office that shocked me. I am a relatively young and healthy person and what comes next I could not have imagined.
The CT scan discovered a very large mass on my right kidney and I was advised to see my urologist immediately. My urologist at St. David's North Austin Medical Center rushed me in to an appointment the next day. The prognosis sounded bleak to me, but my urologist was excellent providing guidance. Most likely I had advanced kidney cancer, with the tumor consuming my entire right kidney. The tumor was roughly double the size of my left kidney and much larger than a typical tumor with this type of cancer.
The week that followed was a battery of tests at St. David's North Austin Medical Center and St. David's Surgical Hospital. On Wednesday, August 19th, I had a radical nephrectomy to remove my right kidney and the 16cm tumor that had completely consumed it. After a few days that felt like an eternity, my Urologist called me with the pathology results. The tumor was stage 4 clear cell renal carcinoma and in my urologist's review of the pathology report, his opinion was that the surgery was curative.
By the grace of God and the amazing people at St. David's I am alive, and hope to live a long healthy life. I was terrified through all of it, but the care and compassion I got from everyone at both St. David's facilities was truly incredible. When I say everyone, I mean EVERY SINGLE PERSON – the schedulers who understood my urgency and worked to get each of my tests and my surgery lined up as quickly as possible, the smiling screeners at the entrances who greeted me quite a few times over the span of 2 weeks, the nurses who healed, comforted, and reassured me, and of course the urologist who I cannot adequately thank.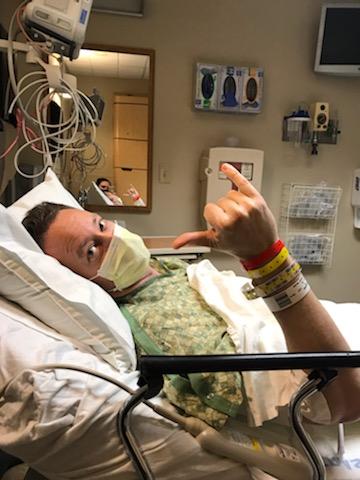 (Brad Andress - Division Vice President, Central and West Texas)
I also could not have asked for a better leadership team at HealthTrust, they were beyond supportive and accommodating to my testing and surgery schedule on short notice. More importantly, they truly cared and it was obvious with every conversation, every thought and prayer for good health that I received.
I have been employed by HCA (through HealthTrust) for a little over a year and it has been a great personal and professional experience for me, to say the least. When I have the chance to speak with other HCA employees I always like to hear their stories. During pre-op I asked the nurse who was starting my IV how she got to St. David's North Austin Medical Center. She told me that after 35 years at another local hospital she returned to St. David's. When I asked why she told me "They just care more here". I couldn't agree more.
I have never been more excited, more passionate, or more motivated, to put all my effort into a company and their mission.
At HCA Healthcare, we are committed to the care and improvement of human life.
I'm alive and healthy because that's true and our teams live our mission. Thank you to everyone who I came into contact with at St. David's North Austin Medical Center and St. David's Surgical Hospital, including those who I spoke with but never met. Through the most challenging time of my life you made a difference and I will be eternally grateful."