---
StaRN nurses say the training makes them feel better prepared for the workforce than they did as new college grads.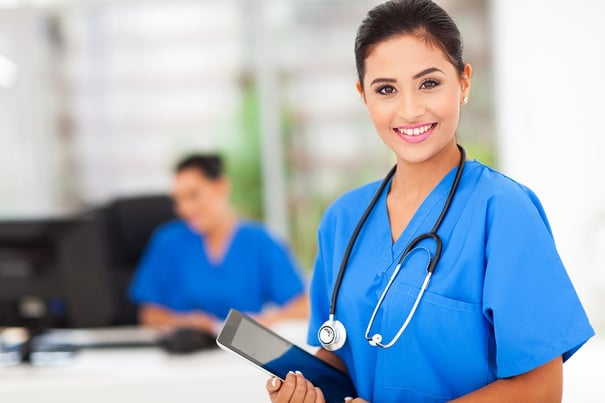 Since its inception in 2014, the innovative StaRN (Specialty Training Apprenticeship for Registered Nurses) program has opened doors for 2,000 newly graduated nurses who otherwise would have faced substantial difficulties in getting hired locally. Another 2,000+ newly minted RNs are expected to complete the StaRN apprenticeship in 2016.
The program is responsible for increasing the pool of qualified registered nurses at dozens of facilities around the country. StaRN has been so successful that it is now mandatory at many HCA facilities. New this year is an expansion of program parameters, in terms of both areas of specialization and nurse "demographics."
Initially, the StaRN program provided specialized training in the areas of medical-surgical, telemetry and critical care. The scope recently broadened to include emergency medicine and soon will also expand to behavioral health. Plans are underway to develop competencies for operating room practice.
While StaRN was designed to enhance job readiness for new graduates, it has also piqued the interest of tenured nurses. As hospital sta¬ffers have seen the positive results of StaRN training, there has been a groundswell of interest from experienced nurses who want to know how they can take advantage of StaRN in order to move from general practice to higher paying critical care positions.
The new StaRN nurse specialty program (NSP) is shorter in duration than StaRN—10 weeks instead of 13—with four weeks of classroom instruction and six weeks of clinical training. The first NSP was completed successfully in West Florida to rave reviews. StaRN has the potential to be a great career development and retention tool.
In addition to recognition from industry peers when StaRN won the Staffing Industry Analyst's first-ever Healthcare Staffing Summit Innovation Award last fall, the program gets rave reviews from graduates and their colleagues. The new hire turnover rate for hospitals that introduced StaRN is significantly lower than typically experienced. StaRN nurses say they feel much more prepared at the end of the program than when they graduated from college.
Does everyone love StaRN? Not initially. One CNO in Las Vegas was totally against the program, until she saw the results. Now she would never hire anyone who hadn't gone through the program.
Are you looking to join an innovative organization that is working to ensure that new nursing graduates are better prepared to deliver much-needed, quality patient care? Job search today.
---

ABOUT THE AUTHOR:
Tony Pentangelo is executive vice president of Managed Services for Parallon Workforce Solutions. He previously served in a variety of leadership positions at hospitals, health systems and staffing companies. Pentangelo's specialty is creating workforce efficiencies and improving recruitment and retention. He holds a bachelor's degree in accounting from Rider University in Lawrenceville, New Jersey, and an MBA in finance from Mercer University in Atlanta.
---