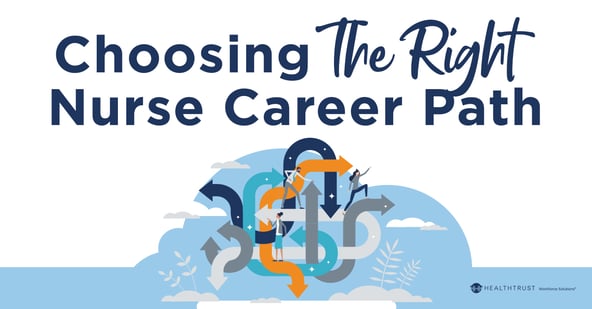 Being a nurse is an excellent career choice, nurses will always be in high demand! When contemplating such a career path, the first place to begin is to consider the education requirements to determine what is ideal for your short-term and long-term goals. There are four primary pathways into nursing.
CNA- Certified Nursing Assistant: For those who want to gain more experience in nursing and learn more about the healthcare world, becoming a CNA can be accomplished in just 4-12 weeks.
LPN - Licensed Practical Nurse: Although this career has fewer responsibilities than an RN, it will get you right into the nursing field because getting an LPN degree takes half the time of getting an RN degree and can be completed in as little as 12-15 months.
RN - Registered Nurse: There are three ways to become an RN. You can get a Bachelor of Science degree in nursing (BSN), an Associate's degree in nursing (ADN), or an RN diploma program. Having an ADN is a 2–3-year Associate's degree program followed by an NCLEX licensing exam to earn your RN license, which for some would be great as it is a faster route to nursing and your only focus is direct patient care. Choosing a BSN is ultimately the longest route, but qualifies for more procedures and leadership opportunities, as well as career advancement and specialization.
When you are just starting out in this career, you may find the sheer amount of specialty options may lead you to ask yourself "Which one?". Here are some points to think about when considering what specialty is right for you.
1. Consider that advancing your career may lead to more education. Check out which ones are realistic for you.
2. Ask yourself: What are your strengths? What do you enjoy most and least about the role? Does this specialty align with your career goals?
3. What interests you? Consider the following careers below.
Fast-paced: Emergency Nurse, Flight Nurse, Forensic Nurse, L&D Nurse, Managed Care Nurse, NICU Nurse, Medical-Surgical Nurse, etc.

Higher Salary: Clinical Nurse Specialist, ICU Nurse, FNP, Nurse Educator, Nurse Practitioner, Pain Management Nurse, etc.

O

ut-of-hospital: Ambulatory Care Nurse, Camp Nurse, Gastroenterology Nurse, Nurse Educators, Hospice Nurse, Nurse Case Managers, School Nurses, etc.
There are 96 specialties to choose from, which means there is something for everyone! Johnson & Johnson has a fantastic website to help you find exactly what is meant for you, with filters like degree requirements, interests, and level of demand.
Whichever healthcare career you end up choosing, let HealthTrust Workforce Solutions open the door for your next career opportunity. Speak to a recruiter today or visit our website to view all the jobs we have available. We look forward to growing your nursing career with you!