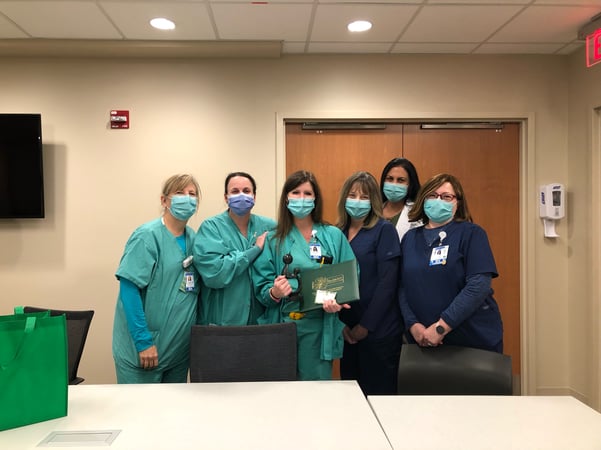 Congratulations to Allison Wharton, RN ICU, on earning a DAISY Award!
Allison was nominated by several patients at the Mission Hospital in Asheville, North Carolina for her ability to help and comfort patients as well as thoroughly answer questions. Please see below to read some of her DAISY nominations.
"From the moment I walked into my daughter's room and saw her connected to the ventilator with all the tubes, the tears fell. Allison was right there with her hand on my shoulder. She told me everything that was happening and what would happen. Mission is blessed to have Allison with all her skills. Allison is the most deserving of the DAISY award. She is a blessing with a pure calling for nursing." – Patient's Mother
"My mother was brought to Mission on September 1, and was admitted, she then died in the hospital on September 10th. I wanted to commend the care that my mother received. It was unbelievable how the staff treated my mother and family like the only people there. I would like Allison Wharton to be recognized for being so caring and compassionate. Allison made arrangements for Zoom so that I could speak to my mother one last time. She passed not long after, holding onto Allison's hand." – Patient's Son
Local leaders from HealthTrust and Mission Health presented the award to Allison on November 30th, 2021. When she accepted the award, Allison said, "I am very excited and appreciative of this honor. Mission has made me feel appreciated and valued, which in turn, obviously make people want to perform better. It has been a very positive environment and the families and staff have been wonderful to work with!!"
Please join us in congratulating Allison on her DAISY Award!
If you're interested in joining the HealthTrust team, click here to browse our available job opportunities.