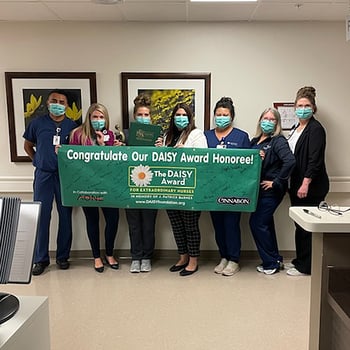 Congratulations to Angelica J., RN, for receiving a Daisy award!
The DAISY Award recognizes and celebrates those nurses who demonstrate compassion, provide warmth, and go above and beyond to bring excellent care to their patients and families daily.
Angelica J. is an RN at Belton Regional hospital in Belton, Missouri. Angelica was nominated by one of her previous patient's family members. This is also Angelica's second DAISY Award in the last 14 months!
In the words of the nominator, "Angelica embodies this award in every way." Angelica represented the qualities of a DAISY award recipient by showing exceptional care to a patient and his family. Angelica stood by the side of a patient throughout his last few days, continuing to provide for him, while also showing support to his loved ones. Angelica went beyond her responsibilities as an RN by providing patient care and emotional care to the daughter of the patient when she needed it the most. She loves her patients' families as if they are her own, allowing them to feel safe and supported in a time of need.
Please join us in celebrating Angelica on her well-deserved DAISY Award!
Angelica, thank you again for continuously embodying the characteristics of a DAISY award and providing unconditional care for your patients and their loved ones. Your kind heart does not go unnoticed!
We are standing alongside the DAISY Foundation and are asking for our community to make nominations, sharing how a nurse has made a meaningful impact on someone's life. If you would like to learn more or nominate an outstanding nurse, click here.