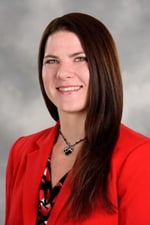 Please join us in congratulating Christina Hall, who was recently promoted to Assistant Vice President of Enterprise Operations!
In her new role, Christina will identify areas where the business may be operating inefficiently and implement solutions to help the company run more smoothly. This entails meeting with the leaders of each of our departments and field offices, gathering their feedback, and utilizing the talents of her skilled team of individuals to improve the company's operating performance.
"My job is to make this company easier to do business with and for," says Christina.
Christina began her career in the staffing industry more than 15 years ago as a receptionist at a recruitment firm. Along her journey, she worked as a recruiter and as an office manager before finding her passion in operations. While she was content at her previous company, a former colleague shared with her the exciting, long-term opportunities available with HealthTrust Workforce Solutions.
"I was sold on the growth that was happening here," Christina says about joining the HealthTrust team in February 2014.
Christina was hired by HealthTrust as a Business Intelligence Reporting Analyst but was soon promoted to Director of Field Operations & Delivery. Christina quickly made a name for herself through her vast knowledge of the organization, becoming the go-to person for a variety of projects that required her unique expertise.
Outside of the office, Christina enjoys spending time with her 10 month old daughter and her two step children. She is also passionate about giving back to the community, as evident in her involvement with local charities. Christina ran the girls mentoring program at the Boys & Girls Club where she helped young women to overcome issues they were facing such as bullying, peer pressure, or low self-esteem. She also frequently works with local food banks.
"It's all about intrinsic reward," she says.
Once again, we congratulate Christina Hall on her promotion!
If you are interested in joining our corporate team, click here to browse our available opportunities.