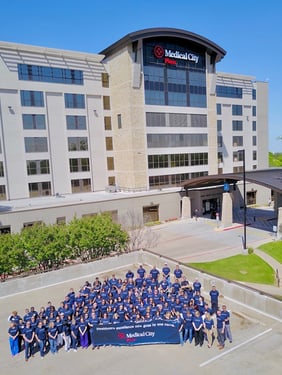 Located in the "City of Excellence," Medical City Plano is a part of the largest, most comprehensive healthcare providers in North Texas.
This 547-bed acute-care facility has more than 1,600 employees and over 1,000 physicians on staff, representing over 70 specialties and subspecialties. Medical City Plano stands as the community's first comprehensive medical center and is part of HCA's Medical City Healthcare system. Many of these positions and facilities are staffed by HealthTrust Workforce Solutions, an affiliate of HCA.
Medical City Plano houses facilities like the first and only Level 1 and 2 Trauma Centers in Collin County, as well as Collin County's first Burn Center. The hospital's ER is also equipped with Comprehensive Cardiac and Vascular services, and the Burn and Reconstructive Center of Texas is also found here.
As the community's first Comprehensive Medical Health Center, Medical City Plano goes above and beyond to ensure the proper care and rehabilitation is provided for patients. It features facilities like operating rooms and an ICU equipped with special climate controls to regulate temperature and humidity for burn patients, and their outpatient clinic is designed to aid patients for both short and long-term rehabilitation.
The city of Plano itself values the health, well-being and quality of life of its residents, and Medical City Plano reflects this with programs tailored to fit individuals without them ever having to step foot into the hospital. Talk about convenience!
The facility offers an innovative H2U (Health to You) program that serves as an overall wellness resource made to target all ages. H2U offers various membership benefits such as a print and online newsletter with interactive health tools and an extensive health library. Additionally, Medical City Plano Endowed Scholarships are awarded to students in Health Science programs, Nursing programs, or Respiratory programs in the United States.
What makes Medical City Plano special are the special resources put in place for patients to heal and recover, from the relationship between doctors, nurses and their patients, to the Healing Garden west of the 15th street entrance. Medical City Plano also understands that having a diverse workforce from various backgrounds allows patients a sense of humanity through a relatable staff.
If you are interested in learning more about the career opportunities available at Medical City Plano, please fill out the form below. If you're an agency who would like to partner with HealthTrust and gain access to careers at Medical City Plano, please click here.