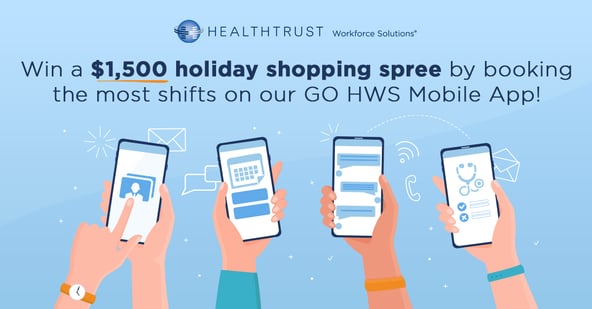 In the spirit of our new mobile app and to show some thanks, we have decided to host a huge giveaway for our app users! Health Trust Workforce Solutions wanted to show our appreciation for our hardworking healthcare heroes and give away something special to a lucky winner who utilizes our new app the most.
In order to win, you have to have booked and attended the largest number of shifts strictly through the Go HWS Mobile app. Our app was built for your convenience and flexibility. Go HWS Mobile allows per diem nurses to book fast and easily. It gives you control of your own schedule, in just a few clicks!
The winner will receive a $1,500 holiday shopping spree. The giveaway will go through October 2022, so the winner will receive their prize just in time for their holiday shopping.
We are so thankful for our wonderful workers and want to show that appreciation through the opportunity to win this giveaway and $1,500! If you have not already, download the Go HWS Mobile app, start booking shifts today, and get your chance to win!