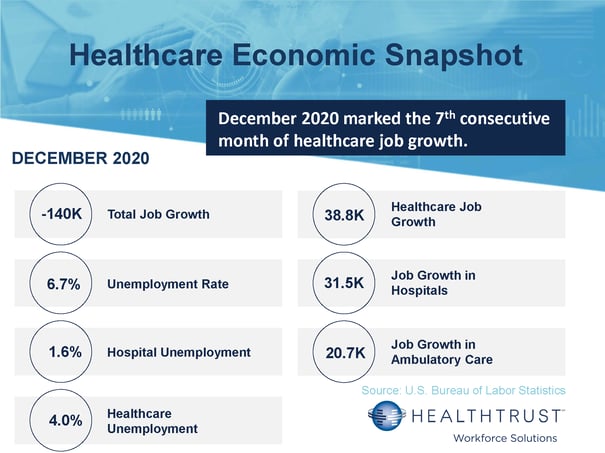 The U.S. economy lost 140,000 jobs in the final month of 2020, according to the December U.S. Bureau of Labor Statistics (BLS) Hiring Situation. This represented the first month of loss since the pandemic began impacting our nation early in 2020. The decline in payroll employment reflects the recent increase in COVID-19 cases and continued efforts to control the pandemic.
Healthcare continued to remain a source of job creation, adding 38,800 new jobs last month, with 31,500 jobs in hospitals and another 20,700 in ambulatory care. Gains were once again offset by job loss within nursing and residential care settings. December 2020 marked the seventh consecutive month the industry has added jobs, however growth is slowing and healthcare employment is down 502,000 compared to February, according to the BLS.
The overall unemployment rate remained at 6.7% in December, with unemployment within healthcare edging up slightly to 4.0% from 3.7% in November.