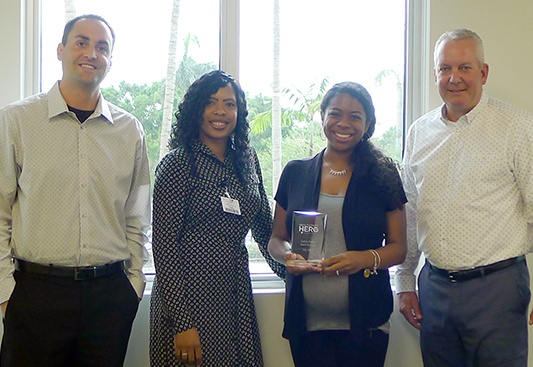 Travel recruiter Ashley Parker is our next corporate HealthTrust Hero! Ashley joined our team three years ago in our sourcing department and moved to our travel division less than a year later.
"I truly enjoy coming to work every day," Ashley says with a smile. "I love getting to know new people and that no two days are the same."
Ashley initially joined the travel team as an associate recruiter but was quickly promoted to a recruiter role. Through her vigorous work ethic, she soon began to flourish: her number of working nurses is nearly double the average.
"Ashley is an amazing example of just how successful you can be if you are passionate about helping people, work hard and are willing to learn new things," says Tim Bollinger, Vice President of Travel at HealthTrust Workforce Solutions. "Over a relatively short period of time she has grown into one of HealthTrust's highest performing recruiters who has earned the trust and respect of the nurses she puts to work each day."
Ashley credits her success to her ability to stay organized, remain self-sufficient, and be creative in matching travel nurses to markets that may be typically be overlooked. She also appreciates the friendly competition between her and her peers in how many nurses they currently have working.
Outside of the office, Ashley spending time with her growing family and traveling to kid-friendly destinations like Walt Disney World.
"My two kids keep me busy," she says. However, her life will soon become much busier: Ashley is expecting her third child any day now.
Please join us in congratulating Ashley Parker, our next HealthTrust Hero!
Pictured above are VP of Travel Tim Bollinger, Director of Travel Joi Crockett, Ashley Parker, and CEO Brendan Courtney.
If you are interested in joining our corporate team, click here to browse our available job opportunities.