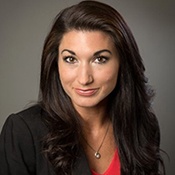 Our next corporate HealthTrust Hero is Vice President of Interim Leadership Brandi Vines!
Brandi earned her HealthTrust Hero status through her tireless work with our recent Disaster Relief efforts to help those affected by Hurricane Harvey and Hurricane Irma. As HealthTrust Workforce Solutions is an affiliate of HCA, our Disaster Relief efforts included finding nurses and other medical professionals who were willing to travel to HCA facilities in the affected areas to provide relief to their staff.
"When the opportunity to lead the HCA volunteer initiative emerged, Brandi was ready to roll up her sleeves with her team," says Kristi Stark, Regional Vice President for HealthTrust's Central Region. "She built up a program to support the focus on HCA full-time employees who were willing to help support the regions most impacted by Hurricane Harvey and Irma."
Together, she and her team reached out to hundreds of clinicians, matched them to facilities in affected areas, and arranged the transportation to get these medical professionals to where they needed to be. When getting through to an area proved to be difficult, Brandi used a van to drive the clinicians to their destination herself.
"Brandi and her team worked around the clock for weeks to help HealthTrust Workforce Solutions to deploy as many clinicians as were willing to go," says Kristi. "Brandi's leadership and tenacity were big contributing factors to our success at HealthTrust during a very busy and stressful time."
Brandi is among many HealthTrust employees who devoted their time and energy into the Disaster Relief effort, including Jessica Flores, Katie Retschult, Kristen Krikie, Robert Miller, Carla Mitchell, and Kimberly Trepkus, who are all members of Brandi's team. While each HealthTrust team member was integral in making the Disaster Relief a success, Brandi's ability to inspire and take charge during this difficult time elevated her to HealthTrust Hero status.
Please join us in congratulating Brandi Vines on becoming a HealthTrust Hero!
If you're interested in joining HealthTrust's corporate or clinical teams, click here to browse our available opportunities.