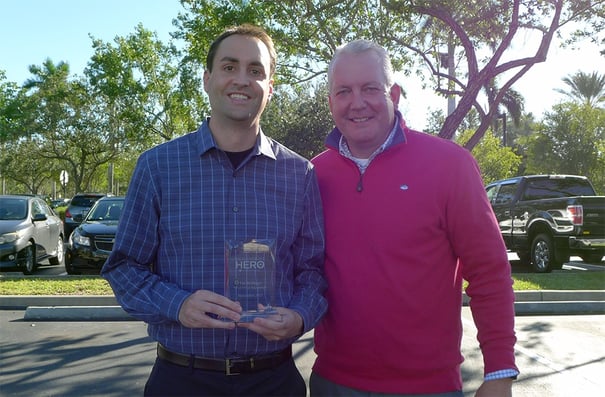 Vice President of Travel Tim Bollinger is our next corporate HealthTrust Hero!
Tim earned his place as a HealthTrust Hero by going above and beyond to help a travel nurse in need. The nurse and her family were traveling to her new assignment in South Florida when their vehicle became unreliable. Although she was already close to her destination, the burden of the costly repairs while also providing for her family weighed heavily on her mind.
To help offset the nurse's expenses and provide peace of mind for her family, Tim immediately drove to the nearest grocery store to purchase food and other necessities for the nurse, her husband, and their two young children. He then personally delivered the items to the nurse's apartment, much to the delight of her family.
"Tim is a leader who shows he cares about everyone in his daily actions," says Director of Travel Sylvia Weg-Swezy, one of two people who nominated Tim for HealthTrust Hero. "He focuses and has us focus on doing the right thing, even when it's not the easiest path."
Tim joined the HealthTrust team in September 2013 as the Vice President of Recruitment. He soon transitioned into his current role where he oversees the Travel, Locum Tenens, and Interim Leadership divisions of the company. Although Tim has proven himself to be a leader in healthcare staffing, his initial career path was in an entirely different field.
"I worked in advertising in New York City," Tim says about the early days of his career, "but I really wanted to move back to Florida."
Since returning to the Sunshine State, Tim has embraced South Florida and its perpetual summer weather, engaging in outdoor activities whenever he gets the chance.
"I love being outdoors," Tim says. "Playing sports, watching sports, going to the beach – anything outside."
We would like to once again congratulate Tim Bollinger on becoming our next HealthTrust Hero! Tim is pictured above (left) with HWS President & CEO Brendan Courtney.
If you are interested in joining our corporate team, click here to browse our available opportunities.