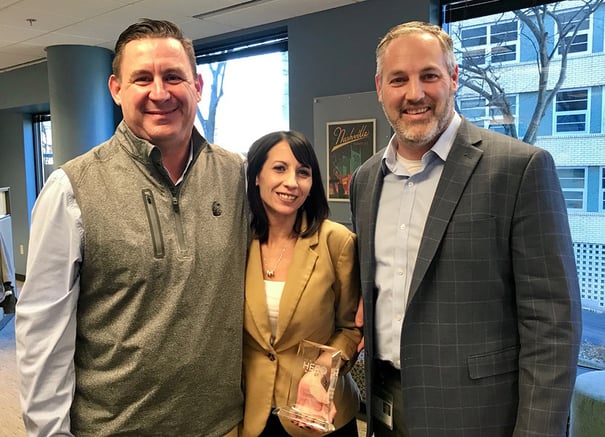 Nashville Director of Staffing Tina Jackson is our next corporate HealthTrust Hero! Tina was recognized for her unyielding commitment to operational excellence and for playing an integral role in HealthTrust's continued success.
Tina began her career at HealthTrust 14 years ago as an Administrative Assistant, where she assisted with tasks such as payroll and compliance. At the time, she was also attending nursing school, but was starting to feel that bedside nursing wasn't her true calling. Upon graduating in 2009, Tina made the decision to stay in healthcare staffing at HealthTrust, and she couldn't be happier.
"I love that I can still assist in patient care in my position," Tina says. "[And] I still keep my nursing license active."
As the Director of Staffing, Tina ensures that the office is running smoothly through providing leadership, direction, and management for the staffing aspects of our operations. From analyzing processes to finding opportunities for education, Tina has a hand in all of our day-to-day operations in our Nashville office.
"I make sure everyone knows where we need to go and how we need to get there," she says. "Everyone is part of the team."
Recently, Tina's staffing expertise was put to the test following hurricanes in both Texas and Florida, as well as a leadership transition in one of our other offices. Not one to back down from a challenge, Tina rolled up her sleeves and got to work, providing support anywhere it was needed. Throughout the duration of these circumstances, her hard work proved instrumental in ensuring that our staffing services remained uninterrupted.
Outside of the office, Tina enjoys spending time with her husband and two daughters. Together, the family loves to be in the great outdoors, engaging in activities like fishing and canoeing.
We would like to congratulate Tina Jackson earning her spot as a HealthTrust Hero! Tina is pictured above (center) with Senior Vice President Steve Wright (left) and Regional Vice President John Lowe.
If you're interested in joining our corporate team, click here to browse our available jobs.