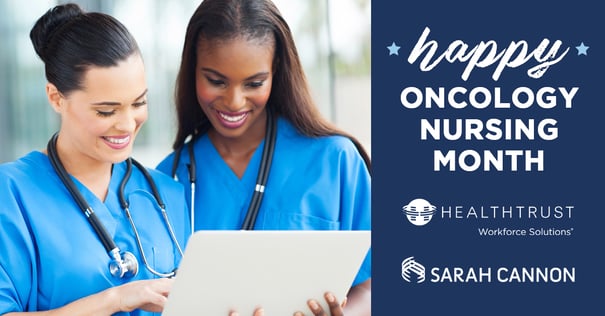 As we celebrate Oncology Nursing Month, we are thankful for the dedication of every member of the care team and take this month to recognize oncology nurses and our partnership with Sarah Cannon.
Sarah Cannon, the Cancer Institute of HCA Healthcare, offers integrated cancer services with convenient access to cutting-edge therapies for those facing cancer in communities across the United States and United Kingdom.
Sarah Cannon's cancer programs include individualized patient navigation provided by oncology-trained nurses, ~ 1,200 stem cell transplants performed annually throughout the Sarah Cannon Transplant and Cellular Therapy Network, hundreds of clinical trials, and molecular profiling capabilities. Sarah Cannon has remained a clinical trial leader in the majority of approved cancer therapies over the last 10 years, helping shape new standards of cancer care and provide access to novel therapies through one of the largest early-phase clinical trial programs in the world.
By joining Sarah Cannon as an oncology nurse, you help provide world-class cancer care close to home for hundreds of thousands of patients, a number unmatched by any single cancer center.
Interested in Oncology travel nursing travel positions? Click here to view our open opportunities today!