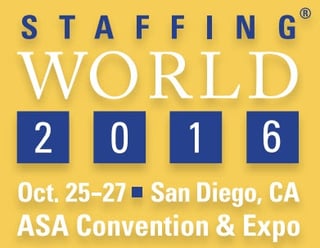 HealthTrust Workforce Solutions President & CEO Brendan Courtney will share his expertise on vendor management systems and managed service providers at the Staffing World 2016 ASA Conference & Expo on October 26!
This panel discussion, called Vendor Management Challenges and Opportunities in the Health Care Space, begins at 10:45 a.m. at the San Diego Convention Center.
We are excited and honored that our President & CEO is among the industry leaders invited to speak on this topic. Other panelists include leadership from The Delta Companies, Medical Staffing Services, and Zero Chaos.