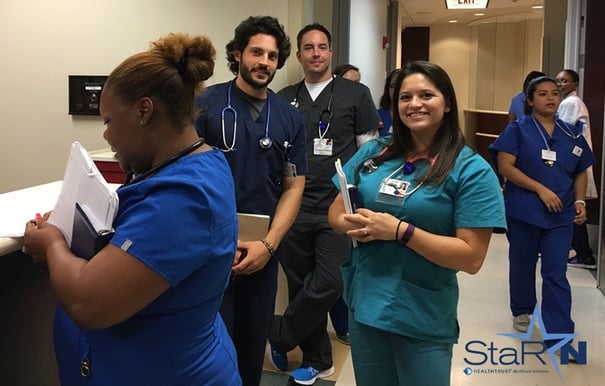 Our StaRN program educates thousands of newly-licensed nurses every year using specialized training that bridges the skills gap between new and experienced nurses. After graduating from StaRN, these nursing "rookies" put their hands-on training to the test at HCA facilities around the country.
"StaRN to me was really the perfect stepping stone from graduating school to stepping into the real world of nursing," says Matthew Rickmon, HCA's 2016 Rookie Nurse of the Year winner for the Southwest Virginia market. "It truly was that intermediate level that helped prepare me for what was to come."
In this market, six of the 16 Rookie Nurse of the Year nominees were StaRN graduates. StaRN, short for Specialty Training Apprenticeship for Registered Nurses, is offered in a variety of specialty tracks nationwide including med/surg, critical care, and behavioral health, with the entire program running up to 23 weeks depending on specialty. All StaRN learners are paid during their time in the program.
Stephanie Oyler, a Rookie Nurse of the Year nominee in the same market, credits StaRN's EKG course with helping her to save the life of one of her patients.
"My patient was admitted for a routine elective surgery [and] she complained her heart felt funny," says Stephanie, who does not work on a monitored unit. "Upon hooking her up to the [EKG] monitor, I knew exactly what needed to be done and was able to expedite the process."
Both Stephanie and Matthew credit the program with boosting their nursing confidence, specifically through the simulations that prepared them for "what-if" scenarios they could face on the floor.
"I hit the floors knowing that I still had lots of questions and many things to learn," says Stephanie. "But I was excited and prepared to be there."
To learn more about how the StaRN program prepares newly-licensed nurses, watch the video below featuring StaRN cohorts and educators at Tulane Medical Center in Louisiana. To search for a StaRN cohort in your area, click here.