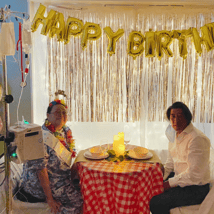 Amy, a patient at TriStar Centennial Medical Center in Nashville, Tenn., has been battling COVID-19 since February 2021.
She just recently came off extracorporeal membrane oxygenation (ECMO) after more than 140 days, just in time for her birthday. When the compassionate care team heard it was Amy's birthday, they provided Amy with an unforgettable birthday experience that she would never forget.
The care team surprised Amy by recreating her favorite Italian restaurant, Olive Garden, in a hospital room, for a spontaneous dinner date with her husband.
One of Amy's nurses, Jessica Lagoni, came in on her day off to be their waitress and to assist in serving Amy in a special way. We are grateful for the incredible team at TriStar Centennial Medical Center for their dedication to helping give Amy a wonderful birthday celebration.
Click here to view the surprise.