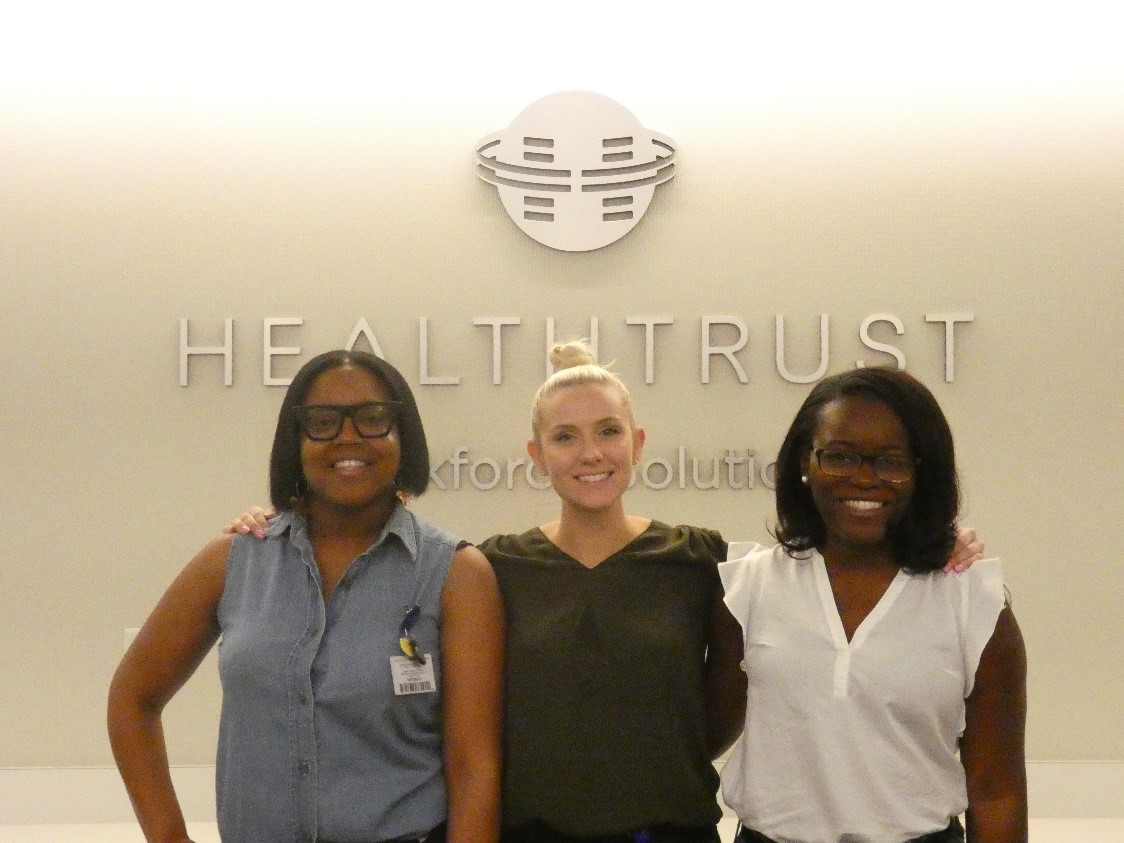 Each month, the HealthTrust Workforce Solutions Recruitment Team recognizes an Employee of the Month for exceeding their goals and exemplifying Operational Excellence. Congratulations to Employees of the Month Andrene Morrison, Natasha Macias, and Cassandra Liberius!
Pictured above left to right, Andrene Morrison, Natasha Macias, Cassandra Liberius
October Employee of the Month: Andrene Morrison, Program Professional
Andrene started at HealthTrust just over a year ago. In her role, she facilitates the onboarding process of new perm placement partners for our program. She help our partners navigate the process so that in order for their contracts to be executed in a timely manner. She supports the needs of multiple account managers who have accounts across the country.
"The best part about my position is my team. I have the best group of co-workers that are success driven, fun, and focused on getting seasoned clinicians placed at our HCA Healthcare facilities," says Andrene. "It feels great to be recognized by my leaders and colleagues and to know that my hard work is very much appreciated."
November Employee of the Month: Natasha Macias, Account Manager
Natasha has been a part of the HWS family for over 4 years now. Her role as Account Manager requires managing HCA Healthcare's perm placement positions located in Florida. On top of filling these positions, she also builds and maintains relationships with her perm placement partners and the HCA Healthcare Talent Acquisitions team.
"Knowing that the work I'm doing is bettering patient care at our facilities is my favorite part about my position. I work with amazing people who help make this happen every day," says Natasha. "It feels like a dream come true receiving Employee of the Month."
December Employee of the Month: Cassandra Liberius, Team Lead Associate Recruiting
Cassandra has been with HealthTrust for 3 years. As Team Lead, it is her job to assist with training, mentoring, and helping with the development of the Associate Recruiters on the team. Not only does she lead, but she recruits as well. Cassandra sources for qualified clinicians that would be a great fit at our HCA Healthcare facilities in California and Nevada.
"Knowing that my job is meaningful means so much to me. I love building lasting relationships with healthcare professionals and colleagues," says Cassandra. "It felt amazing to receive this award."
Congratulations to the Employees of the Month for October, November, and December!
If you'd like to become a part of our HealthTrust Team, click here.