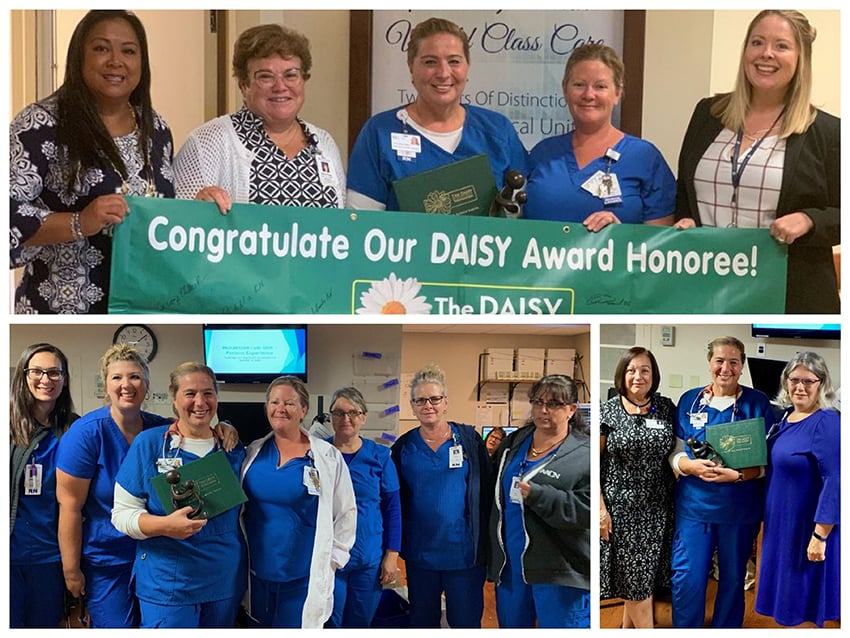 Congratulations to Anne Marie Mello, RN, on earning a DAISY Award! Anne Marie is a HealthTrust nurse who works at Englewood Community Hospital located on Florida's west coast, and was presented with the award by this facility.
"To me, the DAISY Award represents the truest form of nursing validation and is the highest honor in my nursing career," Anne Marie says.
Anne Marie was nominated by a patient who found comfort in her care following major surgery:
"Anne Marie was my first nurse after total hip replacement surgery. She welcomed me to my room and stayed with me while I got comfortable in bed. She told me she would take care of me through the evening and what to expect after having major surgery.
She is very upbeat and personable. [She] made me feel like I was her only patient. When my night nurse came on duty, Anne Marie explained everything to her in front of me, so I had seamless continuous care.
I highly recommend Anne Marie for an award. I felt comfortable and secure in her care."
Please join us in congratulating Anne Marie Mallo on earning her DAISY Award!
Pictured top, from left: HealthTrust Account Manager Amy Orial, Englewood Community Hospital CNO Kathleen Pace, DAISY Award Winner Anne Marie Mello, Englewood Community Hospital Director of Med Surg Brandy Crabill, and HealthTrust Regional Operations Manager Jennifer Fox.

Pictured bottom left: DAISY Award Winner Anne Marie Mello with her colleagues.

Pictured bottom right, from left: HealthTrust Director of Clinical Operations Linda Dailey, DAISY Award Winner Anne Marie Mello, and HealthTrust CNO Shaun McCamant.
If you would like to join the HealthTrust team, click the button below to browse our available job opportunities.