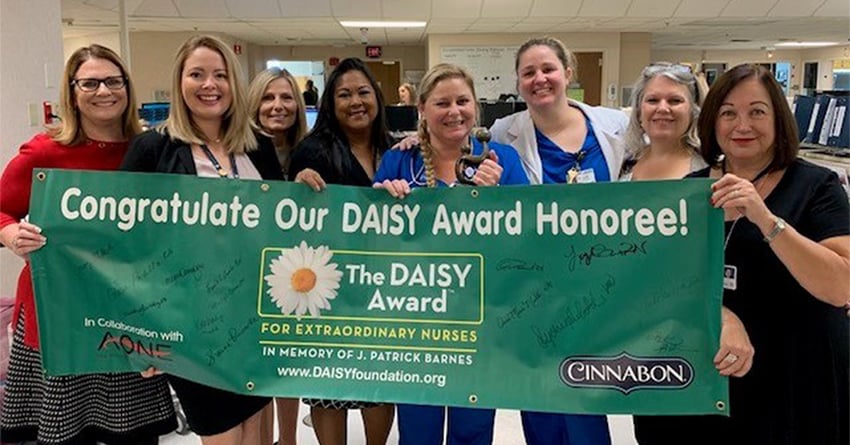 Congratulations to Bridget Coane, RN, on earning a DAISY Award! Bridget is a HealthTrust nurse who works in the ICU at Blake Medical Center in Bradenton, Florida.
Bridget was nominated by the facility's Clinical Nurse Manager, Joni Schmidt, for her compassion and positive attitude that she shows to everyone she encounters while working at the hospital. You can read her nomination in full below:
"Bridget has been to Blake here several times now and has absolutely the best attitude. She is such a team player and is helpful to all nurses, patients and families. She walks in like she is friends to everyone, like she has worked here for years.
Today she took care of a patient that was going through a very difficult problem both with physical facial disfigurement as well as dealing with the end of life planning. Bridget has been so compassionate to the patient and her family that when it came time to possibly move assignments around, I would not want this patient to have anyone else other than Bridget.
Every time I have rounded on her patients while she is here, I get the most positive feedback on what a true joy she is to work with. I can't imagine how hard it is for agency nurses to walk into a new building and work with teams they are not familiar with and do the work they do, especially up in a busy ICU such as this one. Bridget truly makes it look natural and the care and compassion she provides is top notch. She is a true gem and deserves the highest recognition there is."
Please join us in congratulating Bridget Coane on her DAISY Award!
Pictured above, from left: Blake Medical Center CNO Kim Hatchel, HWS Director of Operations Jennifer Fox, HWS Division Vice President Judi Brett, HWS Account Manager Amy Orial, DAISY Award Recipient Bridget Coane, Blake Medical Center Clinical Nurse Manager Joni Schmidt, HWS CNO Shaun McCamant, and HWS Director of Clinical Operations Linda Dailey.
If you're interested in joining the HealthTrust team, click here to browse our available job opportunities.