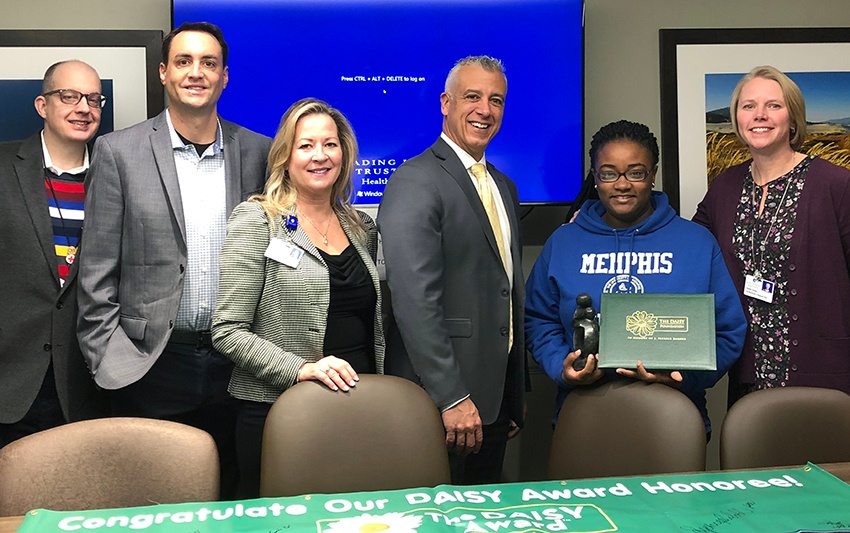 Congratulations to Britnee Gillum on earning a DAISY Award! Britnee is a travel nurse at Swedish Medical Center in Denver, Colorado, who is known for offering her undivided attention and individualized care to each patient she encounters:
"Britnee received a great shout out from a patient discharged from Swedish Medical Center in Denver. The patient was inspired to return to facility to personally thank the care team, specifically mentioning Britnee.
'Tell your bosses I love her! She made a difficult time so much easier. Professional, caring and made me feel like I was her only patient.'
Swedish is an huge medical center with high acuity and always a full house. For Britnee to make someone feel as thought they were the only patient is an amazing accomplishment."
Swedish Medical Center Associate Chief Nursing Officer John Roque also commended Britnee on her dedication to nursing and the distinction that comes with earning a DAISY Award.
"Thank you for the opportunity to share in this moment for Britnee. I love how your banner is a travelling trophy moving state to state and collecting the signatures of the extraordinary nurses from HealthTrust. I know Brittany is special to you and we appreciate the quality of nursing that you have to support our team here at Swedish."
Please join us in congratulating Britnee Gillum on her DAISY Award! Pictured above, from left: Director of MSP Edwin Parizek, VP of Travel Tim Bollinger, Account Manager Julie Shannon, RVP Jimmy White, DAISY Award Winner Britnee Gillum, and Senior Director of Clinical Operations Jamie Jonke.