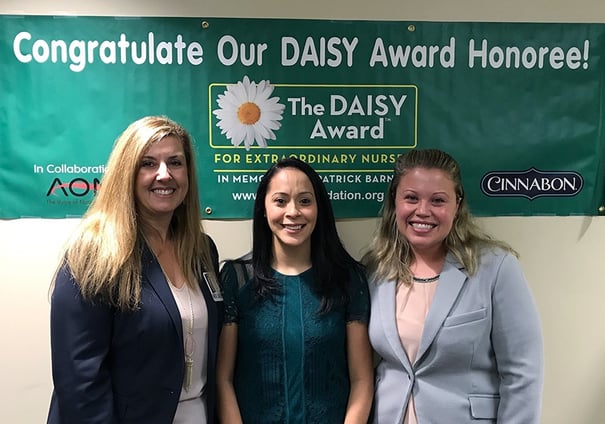 We are proud to announce HealthTrust's first DAISY Award winner, Gloria Padilla! Gloria is a registered nurse at Pearland Medical Center near the Gulf Coast of Texas.
She was nominated by Kim Fischer, whose father-in-law Tim fell suddenly ill while in town visiting Kim and her husband. At Pearland Medical Center, Tim received the devastating news that he had stage four cancer in his lungs, his liver, and his bones.
Beyond providing Tim with excellent care during his five-day hospital stay, Gloria kept his family informed every step of the way and helped them to make his end-of-life arrangements. She also empowered Kim with the skills and knowledge necessary to care for her father-in-law at home following his discharge from the hospital. He passed away 28 hours after discharge.
Both Kim and her husband, David Urbin, attended the DAISY Award ceremony on July 13 where Gloria was presented with her DAISY Award. Gloria is pictured above (center) with Pearland Medical Center CNO Sylvia Godinich (left) and Kim Fischer.
Gloria also received an additional nomination from the ICU Director at Pearland Medical Center. Both of Gloria's nominations can be read in full below.
From Kim Fischer & David Urbin:
"Gloria has been absolutely amazing taking care of my father/father-in-law. She has gone above and beyond to make him comfortable and to put the family at ease during a very difficult time. She assisted in getting us in touch with the patient advocate, case manager, hospice, and priest. She always communicated with us as to the status of his condition.
Her true show of going above and beyond was her willingness to assist in getting a notary to the bedside in order for us to do a living will and power of attorney. She did not have to help us so much as this is not her job.
She has been such a comfort to us and an angel in a very difficult time. This time would have been so much worse if it wasn't for Gloria. She is the embodiment of being a nurse and caring for the sick."
From the ICU Director:
"Providing patient safety is essential and we have been working very hard to increase and maintain one aspect of patient safety with the Bar Coded Medication Administration (BCMA). With an expectation of BCMA to be 98% of better, Gloria Padilla has maintained a 100% BCMA scan rate for March 2017.
Along with keeping the patients safe with BCMA, she has received multiple Kudos given in our Nurse Leader Patient Rounding. While speaking with patients and family members, her sincere caring and providing above and beyond care continues to impact our patients in a positive way. It is a great pleasure to have her work here at Pearland.
She is a nurse without prior intent exhibited by her actions and when you manage her up or applaud her, she states 'it's my job and I don't need to be thanked for doing my job.' Gloria truly is both an asset and a blessing to have on the unit at Pearland or any facility."
We congratulate Gloria Padilla, RN on becoming HealthTrust's first DAISY Award winner!