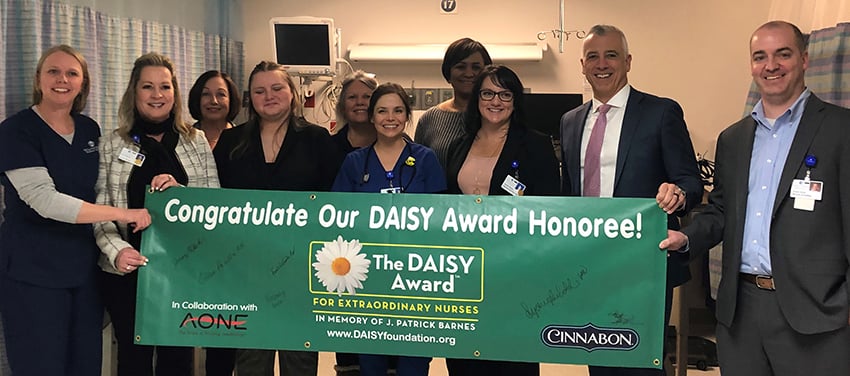 Congratulations to Kimberly Tillery, RN, on earning a DAISY Award! Kimberly works in the post-anesthesia care unit (PACU) at Rose Medical Center in Denver, Colorado. Kimberly was nominated for the DAISY Award by the facility's Chief Nursing Officer for being a strong advocate for her patients and for her quick thinking under pressure:
"Kimberly was in the PACU and made an amazing 'save' of a patient. The patient was close to discharge but something was not sitting well with Kimberly.
She used her great critical thinking skills to place the patient back to bed from the wheelchair, [and] she returned the patient to the monitor to discover the patient had an extremely low heart rate. Kimberly advocated for her patient, took extra time to ensure patient safety and discovered a problem which would have likely worsened at home and probably had a very bad outcome.
Because of Kimberly's attention and advocacy for her patient, the patient remained in the hospital and was taken emergently to the Cardiac Cath Lab where she was stabilized and had a permanent pacemaker placed. Per the CNO, the entire Rose team is so pleased by the quick thinking Kimberly demonstrated and her follow through and advocacy likely saved this patient's life."
Please join us in congratulating Kimberly Tillery on her DAISY Award!
Pictured above, from left: HealthTrust Workforce Solutions Director of Clinical Operations Jamie Jonke, Account Manager Julie Shannon, Director of Clinical Operations Linda Dailey, Staffing Administrator Arianne Clark, Chief Nursing Officer Shaun McCamant, RN & DAISY Award Winner Kimberly Tillery, Director of Clinical Operations Tamara Peavy, Regional Operations Manager Jennifer Bridge, Regional Vice President Jimmy White, and Director of Staffing Travis Taylor.