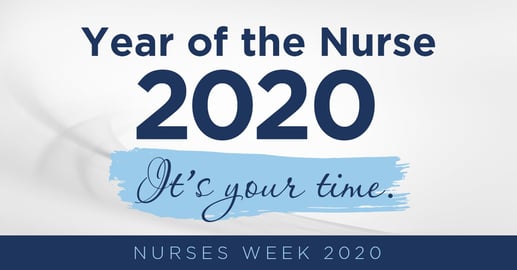 The world has changed, but the core of our nurses has not. Our daily lives have been upended, but our nurses stand up, show up and give patients the compassion and care they need and deserve.
The World Health Organization (WHO) designated 2020 as the "Year of the Nurse," and while this designation was announced prior to COVID-19, we cannot think of a better time to honor and recognize nurses for their commitment to the profession. Just like Florence Nightingale did 200 years ago, our nurses lean in and are a light in the darkness. You continue to compassionately and selflessly serve humanity and your valuable contribution will have saved the world.
In the "Year of the Nurse," we find ourselves depending on the resilience of nurses now more than ever. With new challenges appearing daily, nurses continue to show up for society and deliver quality care with extraordinary skill. For that we are most grateful.
While this pandemic has brought a sense of uncertainty, one thing remains constant: the dedication of nurses to serving the needs of our community. We want to sincerely thank the incredible nurses at HealthTrust Workforce Solutions who are going above and beyond to live out our mission every day that "above all else, we are committed to the care and improvement of human life."
Nursing Now has launched the Nightingale Challenge, which asks every health employer around the world to provide leadership and development training for a group of their young nurses and midwives during 2020. In coordination with our parent company, HCA Healthcare, HealthTrust Workforce Solutions is proud to offer newly registered nurses the opportunity to join our Specialty Training Apprenticeship for Registered Nurses (StaRN) Program. The StaRN Program is offered across the country and features a comprehensive range of nursing specialties. To learn more about the program, click here.
Thank you for all you are and what you do. This is your year. Happy Nurses Week!