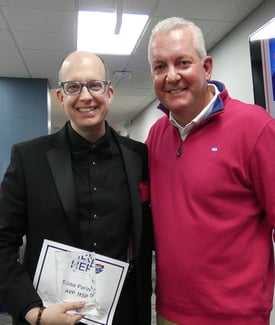 Congratulations to Eddie Parizek on becoming a HealthTrust Hero!
Eddie is an Assistant Vice President for HealthTrust Workforce Solutions' MSP program. He and his team of Program Managers, Program Professionals, Onboarders and more represent our HCA Healthcare client facilities to our in-house travel recruitment team and to our staffing partners.
"I felt a wave of gratitude for everyone with whom I have ever shared my HWS journey," Eddie says about earning the distinction of HealthTrust Hero. "We do not work solo - we need everyone, and I was infinitely indebted to every team member I have the privilege with whom I work!"
Eddie joined the HealthTrust team in November 1998 as a per diem staffer in our West Florida office, having previously spent four years practicing contract and poverty law in New York City. Over his tenure with the company, Eddie has worked in numerous roles – per diem staffer, interim HR assistant, local contract coordinator and travel account manager – and ultimately moved from Tampa to Fort Lauderdale to work in our Sunrise corporate headquarters. In 2014, when HealthTrust introduced its MSP program, Eddie was eager to help to lay the groundwork for this new business offering.
Eddie and his team work with our HCA Healthcare facility clients to fill their travel clinician vacancies. Once a facility discloses their needs, his MSP team reaches out to our in-house travel recruitment team and to our staffing partners to find qualified nurses or allied health professionals, who are then submitted to the facility for potential interviews.
"The best part of my job is helping my team provide superior customer service to all stakeholders – facilities, recruiters, staffing partners – and to help improve patient care," Eddie says. "If you think about patient care every step of the way, you know you made a positive impact on someone's life. What could be better than that?"
In addition to making positive impacts on human lives, Eddie also works to improve the lives of animals through his support of local, state and national animal rescue groups. Eddie has two cats – Mikens and Little – and enjoys reading historical biographies in his spare time. An avid tennis fan, an item on Eddie's bucket list includes attending all four Gram Slam events. Having attended the U.S. Open, he is already one-quarter of the way there!
Please join us in congratulating Eddie on becoming a HealthTrust Hero!
Eddie is pictured above (left) with HWS President & CEO Brendan Courtney.