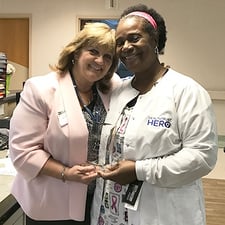 Marilyn Reed, RN is our HealthTrust Hero Clinician! A military veteran as well as a nurse, Marilyn proves that compassion does not go unnoticed.
Marilyn earned her nomination when caring for a homeless patient at JFK Medical Center - North Campus in Florida. The patient had been at the facility for several weeks and was preparing for discharge. Noticing that his clothes had seen better days, Marilyn went out on her lunch break to purchase clothes, shoes, a box of chocolates, and an encouragement card for the man using her own money.
We are honored to have the compassionate Marilyn Reed as a HealthTrust nurse and as our HealthTrust Hero! She is pictured above (right) with HealthTrust Account Manager Joyce Cumiskey (left).
Her nomination can be read in full below:
"I was informed by the Nursing supervisor that Marilyn took her lunch break and went to the store and bought shoes and clothing for an extended visit patient of hers that was being discharged. The patient was homeless and in need. Marilyn took it upon herself to use her own money on her own time to assist the patient. She bought him a card and chocolate box as well as a gesture of compassion as the patient was being discharged."