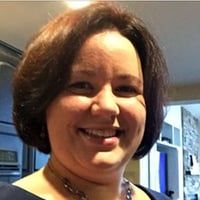 Amanda Moss, MSN, RN is a regional education manager for our StaRN program. A registered nurse for more than a decade, Amanda is inspiring new nurses in our Las Vegas market.
StaRN is designed to bridge the skills gap between new and experienced nurses through specialized training. In her role, Amanda is responsible for mentoring and educating newly-licensed nurses through skills training, simulation instruction, and other hands-on activities to prepare the nurses to work in specialized hospital units.
"I love my job," says Amanda, who began her StaRN career as a clinical instructor. "And I get to teach about my passion."
Amanda initially learned about the program from a friend who was also applying to become a clinical instructor. Having previously taught clinicals and labs, Amanda knew she could bring something special to this innovative program.
"I was overwhelmed at how great this opportunity is for new graduates," Amanda says.
At the time, StaRN was only available in three markets: East Florida, West Florida, and Las Vegas. The program has since grown to more than 30 markets across the country, touching the lives of nearly 3,000 newly-registered nurses in 2016 alone.
Amanda has taught 400 of those nurses throughout her tenure with StaRN and continues to keep in touch with many of them. When her former cohorts receive promotions, go back for their master's degrees, or become StaRN instructors themselves, she is among the first people they reach out to when sharing the exciting news.
As a mother of three children ages 3 through 10, Amanda was able to find the ideal work-life balance through her time with StaRN. When she's not educating new nurses, Amanda teaches Meditech online to nurses from the comfort of her own home, and also has opportunities to travel with StaRN.
"Sometimes I do miss that interaction with patients," she says. "But I get to impact them indirectly now."
If you are interested in learning more about becoming a StaRN clinical instructor, please click here. To qualify, you need to be an RN with at least three to five years of recent hospital experience. There is no minimum education requirement.