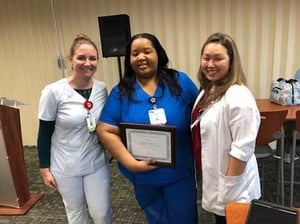 Congratulations to StaRN graduate Brittany Nixon, RN, on being named an Employee of the Month at Lawnwood Regional Medical Center! Brittany completed the StaRN program in January 2018 and has made a positive impact on both the staff and patients at this HCA Healthcare facility on Florida's Treasure Coast.
"Growing up, I've always enjoyed caring for others – it all began with my grandmother whom I've cared for since the age of 8," Brittany says. "She is truly my inspiration. For every patient I provide care for, I always refer back to my grandmother and remind myself to be the nurse that I would want my grandmother to have!"
Brittany credits the StaRN program on giving her the confidence and knowledge to become a successful nurse, and easing the transition from nursing school to the real world of nursing. StaRN, short for Specialty Training Apprenticeship for Registered Nurses, is a 13-week program that bridges the skills gap between newly-registered and experienced nurses. The program includes classroom instruction, hands-on training, simulation labs, and a clinical preceptorship. Brittany mentions that the simulations were especially helpful, as she could experience stressful scenarios in a controlled environment.
"The simulation labs gave us the opportunity to make mistakes and learn from them in a judgement free atmosphere," Brittany says. "Once I began working as a nurse and began to see some of the scenarios presented during simulations come to life, I felt confident in my approach to solve the situation due to my previous exposure during simulations."
This experience and confidence has shown in Brittany's work, leading to her becoming a valued member of the Lawnwood Regional team and play an important role in providing quality patient care. Please join us in congratulating Brittany Nixon on becoming Employee of the Month for December 2018 at Lawnwood Regional Medical Center!
If you're interested in joining our team, click here to browse our current job opportunities.