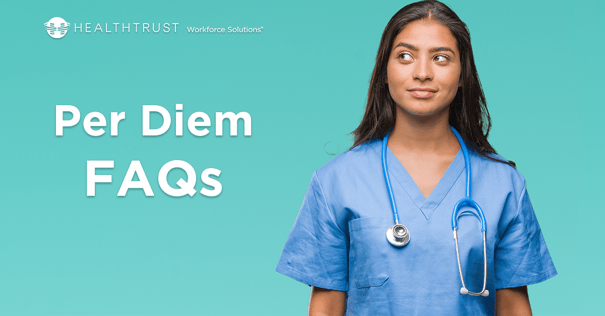 With the holiday season just around the corner, nurses often pick up additional shifts to cover holiday expenses. As the country's Largest Per Diem Nurse Staffing Firm, we're answering the most common questions received by our recruitment team.
Can I make my own schedule as a per diem nurse?
While working per diem, you will be able to accept or reject shifts that you're qualified for based on the daily needs of the facility. The staffing team will take your preferences into consideration when recommending shifts for you, but you will not be able to schedule shifts in advance unless the facility has a need for block booking.
If you're interested in working guaranteed hours, we recommend you take a short-term local contract.
What kind of experience do you need to work per diem?
You will need at least one to two years of recent acute-care experience in a hospital setting and in the specialty you would like to work in. The exact amount of experience varies by facility and by specialty, and our recruiters can help you find the right match.
If you are a newly-registered nurse who does not have the required experience, we recommend the Specialty Training Apprenticeship for Registered Nurses (StaRN).
How long does the hiring process take?
On average, our hiring process takes three to four weeks. Once you are hired by HealthTrust, you can seamlessly transition from one line of business to another, such as from travel to per diem.
Can I pick up per diem shifts while on a travel contract?
Yes, you may pick up per diem shifts while on a travel assignment. However, your per diem hours will be paid at your travel hourly rate, which is lower than the per diem rate due to travel subsidies. To earn the full per diem rate, you would need to wait until your travel contract ends.
What is the culture like at the hospital?
You can get a good sense of any HCA Healthcare hospital's culture by checking out our HCA Healthcare facility spotlights.
---
If you're interested in working per diem and have a question, please leave a comment on this post! If you'd like to browse our available per diem job opportunities, click here.