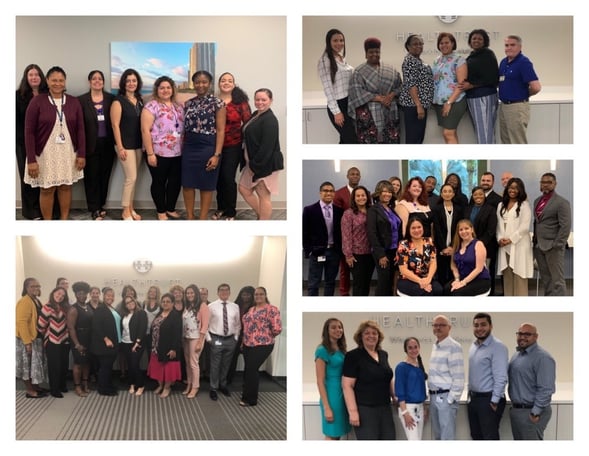 HealthTrust Workforce Solutions is proud to spotlight the Finance Shared Services Department. This department is broken into five teams: Billing, Shared Services Operations, Customer Service Payroll, Accounts Payable and Accounts Receivable.
The Billing team is responsible for validating and processing all HealthTrust staffing partner nurse hours with a system we use that is called Kronos. This system tracks the nurses' hours when at the facility. The Billing Department works closely with all 15 HWS local offices as well as our Travel Department team to ensure that bill rates are filed correctly for successful payment.
"I have been at HealthTrust for five years and one of my favorite parts of my position is having the pleasure to work with wonderful people who I get to call family," says Carla Gonzalez, Billing Team Lead.
The Shared Services Operations team assists all of the Finance teams with process improvements, issues resolutions, and implementations. The Shared Services Operations team is the liaison between the Finance Shared Services and the IT Group. When other teams experience technical billing issues, the Shared Services Operations team is there to assist. They also identify and manage process improvement projects to better help Finance as a whole.
The main function of the Customer Service Payroll team is to ensure that all HWS candidates and corporate employees are paid not only on time but accurately as well. On a daily basis, the team processes payroll correction requests, which are submitted by HWS employees whose timesheets may be incorrect. This team works to provide superior customer service to all calls received to ensure that everyone is being paid correctly.
"I love being able to collaborate with other departments to work on process improvement initiatives," says Eliana Pereira, Manager of Finance Operations.
The Accounts Payable team works closely with HWS staffing partners to ensure that they get paid on time for payment discrepancies regarding their candidate that they place with HWS. The team also works to resolve Track-It-Tickets related to the staffing partner payments. Continuous improvement is also an important part of the team's role.
"I absolutely love the Accounts Payable team and the incredible energy and focus we have around process improvement, as exhibited in the great work done throughout a series of projects," says Gigi Hamstra, Director of Accounts Payable.
The mission of the Accounts Receivable team is to ensure accuracy and integrity of HWS balances in the general ledger. Their purpose is to assist the other teams in Finance in maintaining compliance with HWS policies and standard operating procedures, as well as strengthening internal controls as they relate to accounts receivable. The services they provide allow HWS to efficiently bill and collect on outstanding invoices from external client facilities. This process ensures a central point of contact for our valued customers and supports the ease of doing business with HWS.
"Being on a team that works together towards a common goal to celebrate success is a favorite part of my job," says Milena Mitova, Director of Accounts Receivable.
All of the teams that make up the Finance Shared Services department are critical to us ensuring that everyone is paid correctly when working or doing business with HWS. Their hard work and determination are greatly appreciated.
Pictured above, left side: Accounts Receivables team (top), Billing team (bottom); right side: Payroll team (top), Accounts Payable team (middle), Shared Services Operations team (bottom).
If you are interested in becoming a part of the HealthTrust Workforce Solutions team, click here.