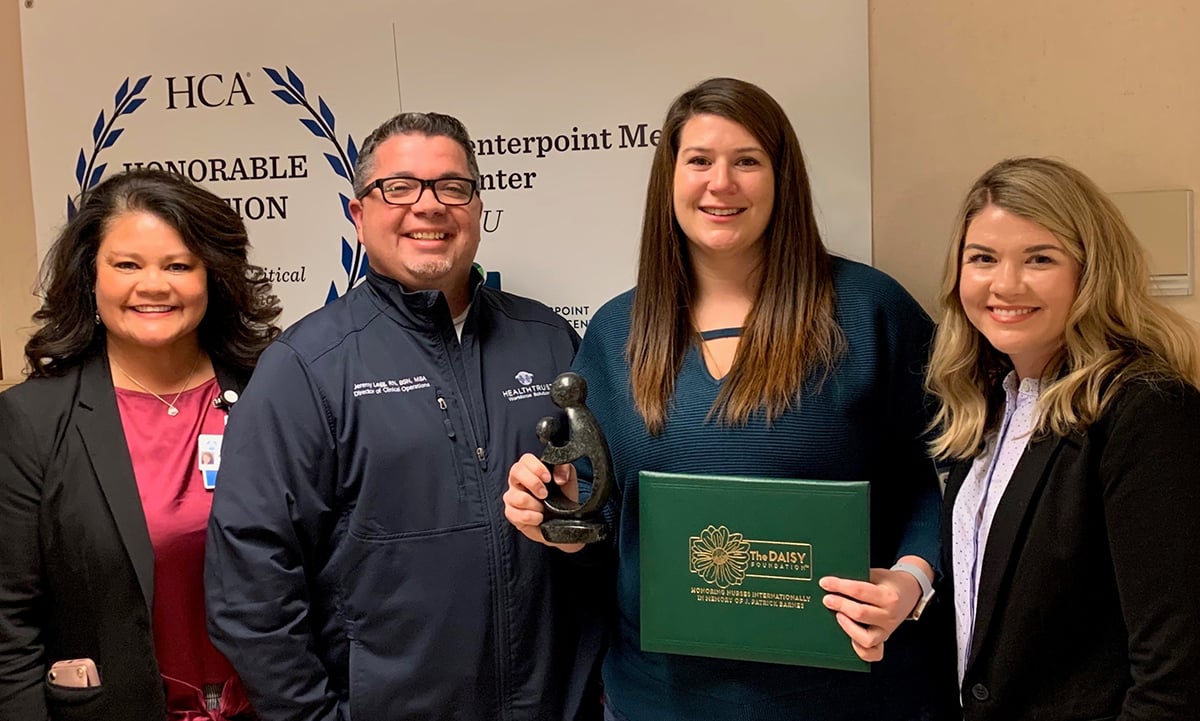 Congratulations to Megan Dampf, RN, on earning a DAISY Award! Megan is a HealthTrust nurse who works at Centerpoint Medical Center just outside of Kansas City, Missouri.
Megan was recognized by a Centerpoint nursing leader who one evening became a patient at the facility. You can read her nomination in full below:
"On Tuesday, I woke up knowing that I had an infection brewing. What I did not know is how quickly or how significant that infection would soon to be. I had called my doctor early that day to go in for an antibiotic script, but what started out as a few red lines across my chest turned out to be my entire right side with redness, swelling, heat and pain in a few short hours.
As I left my physician's office, I knew oral antibiotics would not cut it. By the time I got home I started running a fever and decided to call my doctor back and head to the Emergency Department. Upon arrival to the Emergency Department, my fever was already 102 and I had a rapid heart rate. The care in ED was swift and caring. I thought, we got this: A few days of IV antibiotics, check the cultures, I'll be home in no time.
About an hour after arriving to the telemetry unit, I sat up in bed knowing that I was not feeling right. I couldn't explain it, but I knew it was not right. In a few short minutes, I had several people at my bedside. I got a little bit more tacky [rapid heart rate] you could say and suddenly I decided to no longer have a blood pressure. While several people worked to place IVs, hang fluids, get labs, etc., I began to cry.
You see, at this point it hit me what was happening and what was about to happen. I was supposed to be done. My journey with chemo, radiation and finally the multiple surgeries, I was supposed to be done. My final surgery was 6 weeks prior and I knew this infection meant I would have to return to the OR and start part of this journey all over again.
In the midst of my blood pressure dropping and my fluid needs increasing, I was transferred to the PCU for higher level of care monitoring and initiation of some other medications. It was then at 2 am Megan became my nurse for the rest of the night. At that moment I did not want to be a nurse: I was angry, I was in pain, and I was sick. I needed to just be a patient, and Megan allowed that.
I knew everything that was occurring around me, I knew the meds, I knew I was septic, I knew what it meant when the surgeon was called in at 3:30 am to see me, I knew clinically what it all meant. But personally, it meant for weeks I wouldn't be able to hold or rock my baby girl, for weeks my husband would carry the brunt of running our house with 3 kiddos and 2 dogs, for weeks I would be on meds, changing ice packs, and sleeping. For weeks it meant that while it was all supposed to be over, our lives would once again be impacted by another surgery, a setback, a bump in the road.
I cannot tell you the how grateful I will be for Megan that night. When you are the patient, it means so much to be able to look up and fully trust the person providing care for you. I knew Megan had me, and I knew she would take amazing care of me. Her clinical competence, her compassion and her advocacy are second to none. The staff of the entire PCU were amazing those 5 days, but on that very first night, I will forever be grateful that Megan was my nurse."
Please join us in congratulating Megan Dampf on her DAISY Award!
Pictured above, from left: HWS Division Vice President Patty McGuffin, Clinical Operations Director Jeremy Legg, DAISY Award Winner Megan Dampf and Account Manager Erin Webb.
If you're interested in joining the HealthTrust team, click here to browse our available job opportunities.